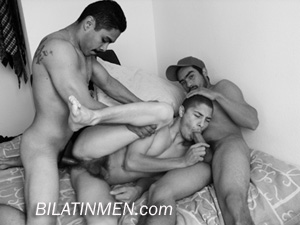 So this story is about my 1st gay experience. I was 18, doing the usual on a Friday night. I had a few homies n homegirls over. We were all just kicking back, getting faded.
At the end of the night we were all trashed. One of the homies that was driving asked if he could stay the night cuz he didn't wanna drive. I told him ya.
So him n the 2 guys he came with all stayed the night. We had all passed out in the living room on the couches n floor.
Now here's the good part. I had already passed out, but I woke up feeling somebody touching my stomach and rubbing my dick through my pants. I had a blanket over my face so I pretended I was still sleeping. I didn't want him 2get sacred n stop.
He started unzipping my zipper n pulled out my dick! By now I was hard as a rock. My dick is 7.5 inches uncut. This fool is so fine. I always thought he was straight.
I finally got enough courage 2 say something. I opened my eyes n said, "What r u doing?"
He didn't say nothing. He just looked at me with a nervous look on his face. I said, "Don't stop."
He used his tongue 2 lick n tease the tip of my dick! Then he deep throated it all. DAMN, it felt so good. It was the best head I've ever had. Way better then any girl LOL
He started 2 lick n suck on my balls, then slowly moved his way down 2 my ass. He started 2 lick my ass. God damn, I was moaning cuz that felt so good. His face was buried in my ass. He ate my ass out n jacked me off until I busted a nut.
Ever since then I've been a bi Chicano on the dl