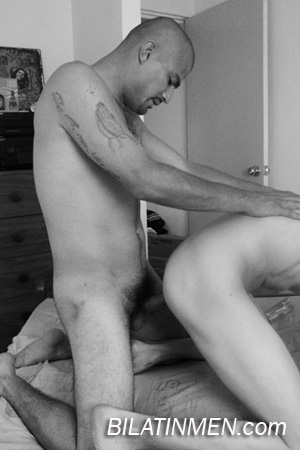 Well, it all started last year when I was 18...my aunt and her kids came to my house for Christmas. I was pretty upset that I had to share my room with my cousin & his friend Carlos, but when they got there I saw my cousin's friend Carlos and I was happy. I got happy because he was 5'10", slim n a pelon fine as fuck.
When I saw him I got a big hard on.
So the 1st night that Carlos slept in my room, I couldn't sleep knowing that he was a couple of feet away from me.
The 2nd night that, I asked him if he wanted a blow job. He looked confused, like he thought I was kidding, but I kept staring at his dick. And he said, "Are you serious fucker?"
Then he said, "No dawg, I ain't gay." But I saw his dick twitch in his boxers.
So I leaned down over his dick and I opened my mouth, and said, "If you want just put it in my dick."
He kept saying, "I don't know," but he let me take his dick out of the hole of his boxers and put his soft uncut pito in my warm mouth.
When I was doing that, I noticed that he got hard real quickbut when I saw his face he was awake...he told me, "Fuck, that shit feels good."
And I shook my face yes n he pulled out a 9.5 inch dick. I was happy that he did that, n that whole night I sucked his dick n we kissed n made luv, n then the following night we started the same way, but that night we fucked n made luv till the morning.
After that day we fucked around until the day came when he had to leave. I was sad that he went back to where he lives.
Since he left, we talk n we still keep in touch. This Christmas Ima go to his house n we're gonna have some fun...