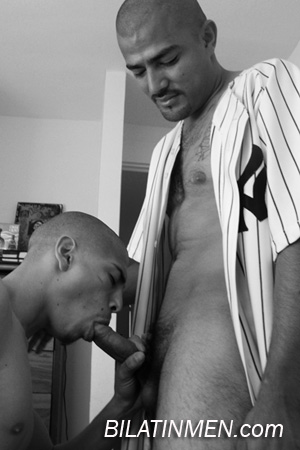 This happened to me two years ago when I was in school. I had a best friend named Frankie. He was Latino,5'9", short black hair, good body, and he dressed like a pretty boy/baller. We had two classes together and I had always gotten a weird vibe from him which made me think he was gay n shit.

Frankie and I were really close friends. He would joke a lot, asking me to give him a kiss, and he would smack my ass just for the fuck of it. There was this one time were we were in our last class for the day. We were talking and he was asking me to suck his dick over and over again. Knowing how he was, I thought he was playing around, so I went along with it and I told him, "Sure ok after the class is over."

As soon as class was over, he told me to follow him, so I did. I saw him walk into the bathrooms and I went in after him. He went into the big bathroom stall and told me to come in. So as I went in, I thought to myself, Maybe he is just fucking around, so I was a bit nervous.

As he closed the door and locked it, he turned around, looked at me and he leaned in and started to kiss me. I was in shock for a minute, but then I went at it.
As I lean in towards him, I felt his bulge in his pants getting bigger. After making out for a few minutes, I went down and took out his cock which was about 7 inches long and super hard. I started to suck it like a lollipop. It felt so good to have his cock in my mouth. Then he started to fuck my mouth very fast. He moaned quietly so no one would hear him.

After he fucked my face for a while, he started to go down on me. His warm lips on my dick felt so good. It seemed like he had done this before because he sucked my dick so good. I was so into it, I wanted him to fuck me with his cock, so he turned me around and he started to fuck me slowly at first. After a while he started to go faster and harder. It was so painful but felt good at the same time. I was trying not to scream or make a lot of noise, so that no one around would hear us.

For about 20 minutes Frankie fucked me so good until he let out a good shot of hot,sticky cum in my ass. Soon after, I shot my load all over the floor. After we got ready to leave we kissed for the last time.

He said, "I hoped we could do this again."

And I said, "Sure without a doubt."

I let him go out first so no one would notice anything. As I was leaving, I heard a noise, and it was some guy in the next stall jacking off. That's a whole different story for next time.