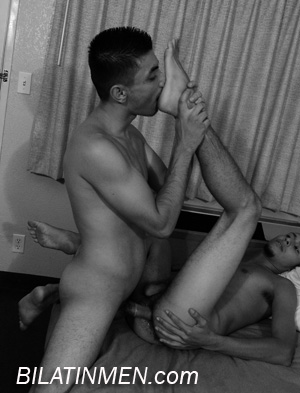 My best friend is bi. I am a white boy who loves Puerto Rican dick. We met
while in jail and things just went from there.
He has a thing about white boys dressed up as women and to please him I did it. Let me tell you, it is the best sex I have ever had.
Recently I bought a couple of outfits to turn him on and it worked. I bought a body suit that is crotchless. The first time I wore it for him, he was rock hard long before I got him naked.
The minute he saw me in it he was rubbing that hard cock of his on my ass. Before I could say "hard on," he had me on my knees sucking his big 7" cock.
After I had deep throated it a couple of times and had it nice and wet, he turned me around and started to rub that big cock of his on my ass. He was asking me if I wanted it. Obviously I did, so he slid it in my tight white ass.
Once his pinga was in tight culo, he made sure that I knew every inch of him. He fucked me slow, fast, short and deep. All the while telling me how much he liked my ass and how good it felt.
If that is how he reacts with one outfit, I can't wait til he sees what I do for his birthday.