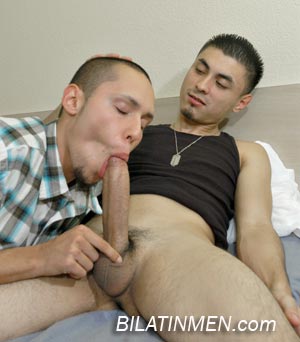 I had moved to Chicago from Boston to my tio's lady's house. Well, to get to the point, we waz chillin in the basement, me and her two sons. The younger one's lady got there, and soon they started to fuck around on the floor, getting all horny and shit, so they left to his room for privacy. I stayed in the living room with the older brother, a fine ass thug.
Then the living room got quiet, and all of a sudden you hear the female moaning as she is getting fucked in the other room.
I turned around and look at the thug. He was grabbing his pito. So I turned away and acted as if I was watching TV. When I turned around for the second time, he saw me looking, so I asked him, "Papi, you want some head?"
He said, "I thought you waz never going to ask," so we went to the garage.
When we get there, he threw me on the couch, and whipped out a humungous uncut cock. I started doing my thing, and he started moaning like, "Damn, nigga you suck better dick then the bitches. Turn around right quick. Let me tear that ass up."
So he went in his car and took out a magnum condom and let me have it. He fucked me in a bunch of different positions. He was rough and got his way with me.
That was the best sex I have ever had. So since that night we hooked up every night for a year, and now we are living together as a couple.