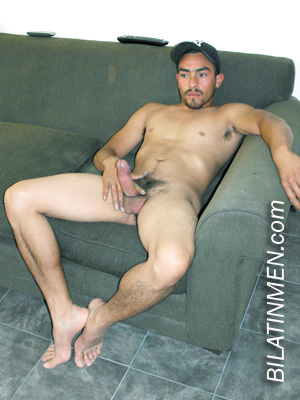 It was our family 4th of July party and everyone was drinking. We had the whole family over, and it was a great time because us latinos know how to throw a party. The night had gotten even more interesting once I had laid down to go to bed. I was just laying there in the dark, facing the wall, when I heard the door open and someone laid in the bed next to me. I had figured it was my cuzin Julian because I had said earlier that he could sleep in my bed.
Julian is so so sexy. He is about 5'11" and has an 8 inch, phat, uncut pito. I have seen it before when I walked in on him in the bathroom changing, that's how I would know. He is light skinded with a perfect body. His skin is so smooth, and he has the cutest six pack ever.
Well, I started to feel the bed moving a lot as if it was shaking. I was facing the wall, so I couldn't see much, but then I felt Julian put his hand on my hip. He pulled his body closer to me. As he did that, I felt his hard pito slide threw my legs under my balls. I will admit, it did turn me on. He started to kiss my neck and that's when I rolled over and started to kiss him. He was shocked because he said he thought I was sleeping.
We both took off our clothes, and I laid on top of him, touching his dick and kissing him all the way down. I started to swallow his rock hard pito, and he began to mouth fuck me. Within minutes of deep throating, he filled my throat with his cum. But he wasn't finished.
He was laying on his back, so I got on top of him and slowly sat down on his hard cock. I started to ride him like no other, and we both started moaning loudly. I didn't care about the noise because it felt so good.
I just felt his big pito in my tight ass. It felt as though his dick got bigger, and that's when he sat up and he came all in my ass.
I got off of him and grabbed his dick and started to suck it slowly, and he jumped a little because it was still sensitive.
We both laid there almost as if we were in love and then we both fell asleep.......