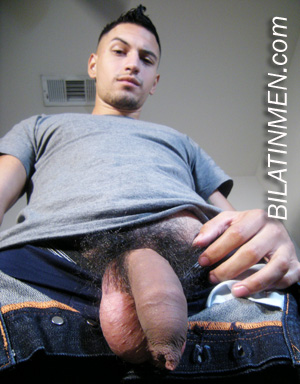 This happened when I was 19. I lived with my two uncles Hugo and Jose. One night they were both getting drunk, and it was about 1 am. I really liked my Uncle Hugo. He was tall, dark, and really muscular. He always smelled so good.
My Uncle Jose had gone to bed already, and Hugo was still drinking. An hour later he walked into my room and laid down next to me. It seemed he had knocked out, and I really wanted him.
Once I was sure he was asleep, I just had to and I started rubbing on his cock with his pants on. And what I felt was big, his dick started getting hard and so was I.
He moaned in a really manly way and said, "Te gusta?"
And I said, Yes.
He started to pull down his pants, and he pulled his big dick out. It was about 8 inches long and brown.
Thn he said, "Chupamela, carbon." (Suck it, fucker.)
so I started by just sucking his head, then he made me go all the way down to the base, and I started to gag. For like twenty minutes, he was mouthfucking me.
Then he said, "Te la quiero meter." (I want to stick it in you.)
So he stuck two fingers in my ass, then he held me by the hips and stuck his cock in me. He started fucking me faster and faster and faster. He started moaning and sweating a lot.
He said, "Call me papi."
So I did, and he then said, "Baby, turn around. I'm about to cum."
Then once he got to my mouth, he started to jack off real hard and came in my mouth. Then he was like, "Wwallow it," holding me by the neck, almost choking me.
Then he gave me a kiss, hugged me and we both fell asleep.
After this my Uncles Jose and Hugo kept on butt fucking me till today we are still together.