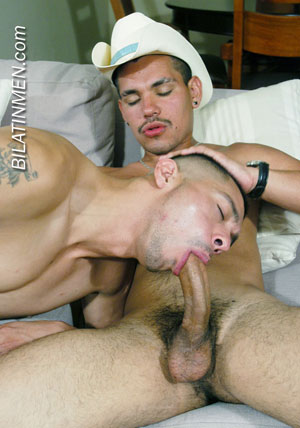 So this happened way back. My friend Rudy was living with us cause he had no where to stay. I was always attracted to him.
Let me describe Rudy. He was dark skinned, bald headed, really buff, and was such a player with the girls. I would always see him with different girls, and he would take them to his room.
One day my mom and dad left the house, so it was just me and Rudy. He was in his room doing who knows what, and I went to use the bathroom. The bathroom and Rudy's room are right next to each other.
Well, while using the bathroom, I knocked on the wall by mistake, and when I did someone knocked back. I knew it was Rudy cuz I knocked the wall where the other side is Rudy's room.
I knocked it again, and Rudy knocked back. When I was done, I went to Rudy's room. It was dark. I turned on a little light, and I saw that Rudy was sleeping. I saw something making a tent under his blanket. I got close and took off his blanket, and there I saw a big 7 inch cock that was sticking straight up.
I saw that he was just chillin in bed. So I went for it, and I started to suck his dick. It had a manly smell to it, and I loved it. I was sucking his dick, going up and down, licking on his hairy balls. I had a big hard on too.
Well, while I was sucking his dick, he started to moan so loud, and he was pushing my head up and down, making me chock on his cock. I loved it, and he was telling me, "Dayum babe, you suck this cock goooood."
While I was sucking on his cock, he was fingering my ass. He started with one and ended up with four fingers in my ass. Then he said, "Babe, can I fuck you from the ass?"
Although I was very scared, I said, "Yes, but I never been fukked."
He said, "It's all good, don't trip about it, mijo."
So I got in the doggy style position, and he started to spit on my ass and spit on his cock. Then he stuck his dick up my ass. Wow, it hurt but felt so good at the same time.
He started off slow, then he went fast. He was going so fast, I felt his hairy balls bouncing off my ass. He told me, "Fuck, you're gonna take this cock like a bitch," and started to fuck me harder.
He finished fucking me doggy style, and he told me to ride him and I did. He made jump on his cock super fast, going like a fucking nascar. He was fucking pounding my ass. While I was riding him, he was telling me all this dirty things that made me so fucking horny.
After this position, he threw me over on my back, and he was on top of me. He started to fuck me as hard as he could, and while he was doing this I was fucking screaming like crazy.
After 30 mins passed, he was still fucking me in the same position. Then he told me, "Dayum baby, no one has ever taken my cock like this" and he bent over and kissed me. We then started to make out. It was hot.
After doing this, he told me "Fuck, am gonna cum babe. Are you ready?"
After that, I felt 2 nice warm shots in my ass and then he took out his cock and came in my face. While we were finishing, he told me not to tell no one what we did, and we started to make out.
I was jacking him off at the same time. After he came a second time, this time we really did finish.
My parents came home later that night. After this event, Rudy and I would always have hot sex, but then he moved to Texas. Now, I only get to suck his dick when he comes to visit. I really miss his cock in my ass, but for the next story I'll tell you about my next door neighbors BJ and Jaime, two very sexy gangsters.