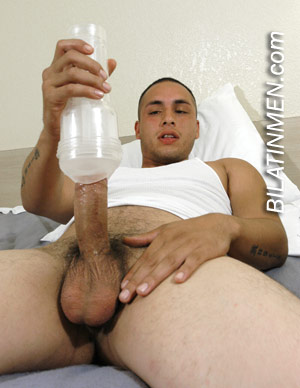 It was crazy. I always thought my homeboy David had a big dick. When we grew up, we used to go to the pool together, so when he was changing I used to see that huge elephant dick swinging from his hairy bush. I always had a crush on my friend since we were morritos. Well, I experienced my first pito with him. I got lucky one night.
Me, my brother, my friend and my friend's brother had a kick back at my house. I was 20 and my homeboy David was 18 when he partied together for the first time. It happened to be that night. He drank too much and passed out.
I passed out as well and suddenly I woke up. Nobody was around, and I was looking to see for sure if no one was around so I can take a peek at my homeboy's big uncut pito.
At that time no boxers were in style. We had those whitties briefs. That night I was horny and I got up and started playing with my homeboy's pito. Boy, I got a surprise once I got it up. It was even bigger than I suspected. I started sucking it. It was so fucking fat, it made me even hornier when I held it in my hand.
To my surprise, he pulled his pants more down when he woke up and found out I was giving him head. As I was sucking him, he grabbed me from my head and wanted me to suck him harder. He pushed my head down and said, "Come on puto, suck that pito. Cometela toda carbon." (eat it all fucker)
Time changed. He is now in his 30's and now he's married with 6 kids. When he gets drunk, he gets all horny. One night we were partying, and out of the blue we were both in the bathroom doing our thing, washing up. I told my homeboy, "Can I suck it?"
He just looked at me and told me, "Suck it and make it good."
It was a quickie cuz the wife was outside waiting for him.
Since then every time my homeboy gets all drunk and wired, he gets all horny and wants me to suck his big fat pito.
To all those foos out there when foos party, it's better and easy to suck their pitos. Believe me, been there, done that and it's better when they're drunk.