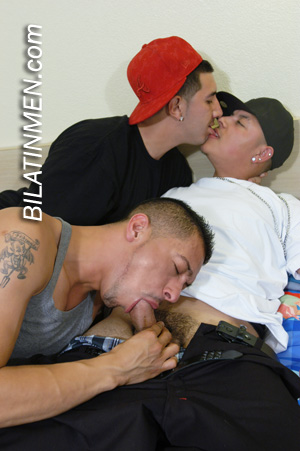 I am from the East Coast. I spent my freshman year in college making a profound discovery: I could get my dick sucked by Latinos and other guys anytime I wanted in the Student Union Building. Sometimes I stuck my nine inches through the crude makeshift hole.
Other times I kneeled on the floor and scooted my knees followed by my crotch under the partition. Either way the oral service was great and there was no conversation or reciprocation to muddy-up the whole arrangement. It was hot watching guys with moustaches and goatees take my dick through the big glory hole cut into the restroom stall walls.

When I moved to Southern California I discovered that there were even more Latinos, sucking pito in the art building at Calif. State Univ., L.A. and at Royce Hall at UCLA. I also discovered the basement of the library at USC, where a few homeboys and Latino students got on their knees to service me. All these have changed now. Since there are more gays at UCLA it keeps moving from Haines to architecture to student union. When I discovered this I decided that I would try sucking uncut Latin dick but, I did not enjoy that as much as getting mine worked over. Perhaps if the guy had been straight it would have turned me on more, the fantasy of servicing a straight Latino. There is a better chance of meeting someone straight though, in a glory hole scene than almost any other.

The student union buildings seem to be the mainstay of the gloryhole university scene. I was once in Phoenix and drove to Tempe where Arizona State is. I got horny (I was using the gym and showers with the gymnastics team). I went to the student union and got the best head of my life from a subservient young guy just living to suck dick. On my way to Tulane in New Orleans I took the 10 and stopped in Tucson. The University of Arizona downtown has a lovely campus and the library (either 2nd or 3rd floor) has a bustling glory hole scene. Once I sat there for the entire afternoon.
I got my dick sucked there and I did some brief sucking myself. Most want to suck though, so face up to that fact and don't get let down by being a dreamer.

Finally, I tacked up a piece of plywood across a door leading from my living room to the hallway. I ran a classified ad and had a host of young guys over for gloryhole action. I did get to suck off a hot 24 yr. old from this. He gave me explicit instructions on how he wanted it done.

All and all, and in the final analysis, the glory hole scene has got to be one of the most erotic devices ever set up within the gay world. It really puts the focus on the most important part of the male body: the dick.