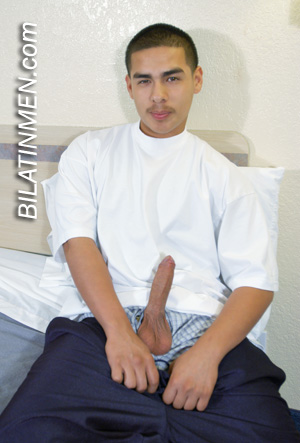 One day last summer me and my friends were throwing a birthday party for my sisters 21st. We were all having a good time until about 2 am because everyone was drunk so people started to go to sleep. I (19 years old) and Julian (my 21 year old friend) were still awake until about 2:30 am.
I went to my bedroom to go to sleep and Julian followed me. When I asked why he was following me, he said that someone's sleeping on his bed so I offered for him to sleep with me. He accepted.
Well, he warned me that all he sleeps in is his boxers nothing else, so I told him that's fine, but deep down I was excited because there's only one blanket. I couldn't fall asleep because my friend is a very sexy Latino and I'm laying next to him. He is very masculine and has a great tight body and the boxers he wears squeeze everything so I know he has a big dick and a nice bubble butt.
All I wanted was a peek. He was laying on his back so it would be easy to take a peek at what he's packin. So I lifted the covers and saw that there was a button on his boxers, and the button was opened and I could see his thick bush. I lifted his pito out of the hole of his boxer. It was thick, warm, smooth, and semi hard and the manly scent turned me on.
I just couldn't stand it so I went for it. I started to jerk him off then I started to suck his thick juicy pito. Then I felt his hands touch my head and pull my hair. He started to mouth fuck me. I just stopped and looked at him...
He said, "Take it. You know you want it," and I did because I did want it.
I moaned to make sure he knew I was liking it.
"Johnny, I'm going to make you my bitch," he said.
I told him "Give it to me from behind," and he threw me around in a rough yet sexy way. He licked my ass a little then started to finger me...
"Damn, you got a nice juicy booty," he said, then he started to penetrate me with his hard, thick uncut 8 inch dick in my ass. "Damn you're so tight." The more I showed pain and screamed, the more he enjoyed it and the harder he'd pound me.
"Oh papi, that's so good daddy," I said.
I could feel his dick grow another inch or so, and he was about to cum because he grabbed me by the hips, pulled me closer and seconds later he filled my ass with his thick milky man hood.
He stood over me and said, "Clean this up bitch," so without hesitation I put that dick in my mouth and swallowed and slowly came back up. As I did that he kind of jerked because his dick was sensitive.
He asked if I liked it, and I didn't say no because it was the best sex I ever had.
Well, me and Julian still get together sometimes for me to suck his pito, but that's about it......