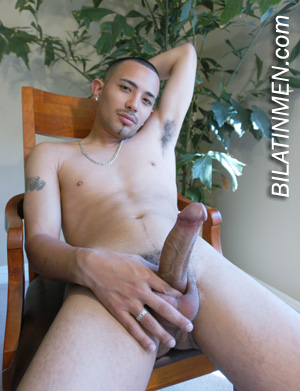 So it's the morning after party night, and DAMN my shit is hard when I woke up, all fuckin 8 inches of my uncut meat. I grab it and stretch it downward and nope it's not going away. There I am, laying butt ass naked covered by one blanket, with my fuckin cock pitching a tent. I thought about strokin it, but nah I was hella horny and even my nipples were sensitive as I rubbed them. So I jumped up turned on the PC and hunting I went.
It was like 6 in the morning, and damn I was surprised to find still so many guyz online hunting, but none close enough to take care of my needs anytime soon. Until I came across a couple in the neighboring city One white bubble butt bottom smooth 6.5 cut and the other TOP latino 7 cut thick and mustache gotee.
So I hit them up all fuckin horny and shit, and send them my pics. They hit me up saying, "Damn, come play," so on went my sweats, a tank, and there I was 10 min away, knocking on the door to find this hella fine Latino open the door, wearing some tight-looking boxers and his bulge fuckin already semi hard.
He tells me to come in. As soon as I walk in he's grabbin my ass, askin me if I like to get fucked or fuck. I am more a top, but say to him BOTH.
He says, "FIRME, let's play."
Down come his boxers and out springs his fat Latin cock. Damn, it just looked hot, not too big but nice and fuckin good, muscle like, strong lookin cock, too bad it was cut, but it was still all good for me.
Down to my knees I went, sucking his thick Latin meat. I grabbed his balls with one hand and his ass with the other. Until another voice said, "Oh, thought we were playing in the bedroom."
I turned and there was this cool lookin white boy, naked and hard, walking towards us in the living room. When he gets near me, I turn him around, and damn this foo's ass was fuckin hot, a smooth white ass.
I bent him over real quick and started to rim his ass left to right, up and down, biting just hard enough to make him jump, until the Latin guy starts guiding us to the couch. Out came the lube, the condoms and the fun began.
I sat on the counch made the white boy suck my cock, telling him to get it nice and wet for his ass, as I got the latin homie to stand up on the couch, cock in my face so I could suck his cock. Damn having a hot throat all over my dick, and my mouth slobbing on this fuckin nice piece of meat, I was goin crazy.
The Latino got down and started biting my chest, licking my nipples and damn I was hot. White boy stopped sucking my cock and began sucking the homie's cock as he and I were making out all passionate and shit. It could have made a steamy porno.
Then the Latino picked up my legs over his muscular arms and started to eat out my ass so wildly I was like, What the fuck? I had my ass eaten before, but not like this. This foo was hot, fucking my hole with his tongue, shoving it in. Damn, it made my ass itch, I wanted it. I needed to bottom.
Before I could say so, he was up and putting a condom on, and there he went, sliding that lubed latin dick in my ass. Damn, I moaned cause it hurt, but felt like what I needed.
He said, "Don't worry, chulo, I'll go slow."
He slid that dick slowly in and out of my ass, it fucking made my ass feel good, my dick was so hard it hurt.
I told the white boy to cum sit on my cock. He grabbed the lube, poured it on my dick, pulled on my foreskin a little, then slipped a condom over my pito, and got right on my dick.
It was hot, me on my back on the couch, whiet boy strattling my dick, and homeboy fucking my ass. We fucked on and on until homeboy slipped out. Then I got up, turned white boy around, bent him over the couch and started pounding his ass as he moaned and screamed.
Homie said, "Shhhh," so he pushed white boy's head down into the cushions, guided my knees up onto the edge of the couch, so now I was fucking this nice ass, resting my knees on the couch with my ass up and in cums Mr. nice cock and into my ass he goes. I'm fucking and getting fucked again.
I reached back with one hand to feel his cock in my hole, and I realized he wasn't wearing a condom. Damn, it was hot. I fucked and fucked this ass so good because as I pumped I was also working this cock in my ass behind me.
I got crazy going faster and faster, working this white smooth bubble ass, making him scream and squeeze the couch, and working this fat latin cock in my ass as all I could hear was him moan and enjoy fucking my ass. I could feel his sweat dry onto my back until he let out a load moan, grabbed my ass and pushed so hard forward I felt his dick in my stomach.
I felt two strong pulses inside, and he came all up in me. Down he went on my back, leaving his cock inside as I continued to work this white ass.
He had to take it out saying it was too sensitive. So I got on the couch again and made the white ass ride me, he bounced on my dick telling me, "Fuck me pappa, fuck me."
I fucked his ass so hard till my dick was sore. I grabbed his legs, forced him to sit all the way down and shot a good ass load all up in him, then he put his head back and shot his own load onto my stomach........