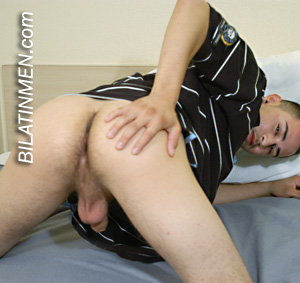 My story starts out by the age of 18. I had a best friend named Silver. He was 5'7", athletic, Salvadorian, with a big ass, and a wide back. We started playing basketball ever since we got off from high school. One day after playing basketball, we went to my house to watch a soccer game. My parents left half ways into the game.
We started talking of how girls were so much to deal with and how lucky were fags, and how they didn't have to deal with all that drama. Out of nowhere, the conversation ended up on what would another guy's dick would taste like? If it did taste like something. By the end of the conversation, we did a bet consisting of whose ever the soccer team lost, the winner would get his dick sucked by the loser.
The game ended and ulucky me lost…
I didn't know what to do, so he told, "Just do it, don't be a sore loser."
I swallowed my pride, and we headed for my room, and there he sat on my bed. I hesitated, but I pulled off his sweaty shorts, and he had boxers on. As soon as I touched the side of his leg, his cock went up. I pulled out his fat cock. He was not circumcised, so I pulled on his shaft to pull down his foreskin, and I exposed his big dick head.
I tried putting it in my mouth, but his cock was too fat and I thought it couldn't fit. Then he told me in Spanish, ''Trata otra ves. Tu puedes chupar este chorizo.'' (Try again. You can suck this sausage.)
He forced my head down onto his fat cock, and this time I had it all in my mouth. I went up and down.I could feel his shaft in my mouth moving with the fucking motion of his hips. I took it out after 5 minutes of slobbering on his pito. This was followed by his command to suck his balls, so I bent my head down and took his big hairy balls into my mouth, massaging his huevos with my tongue and lips, getting his hairy balls all wet.
At that point I was exhausted. I told him I was done and he said, Okay right after I jacked him off. So I grabbed his fat cock and jacked him off real good. After 3 minutes into the hand job, he forced my head down unto his cock and he came hot gobs into my mouth . I got a mouthful of warm gooey salty/sweet discharge. He moaned really loud. I finished by wiping my mouth off.
Ever since that experience, we did it every week and got into deeper sexual encounters where he would fuck my culo real hard for hours until he had to move to the O.C.