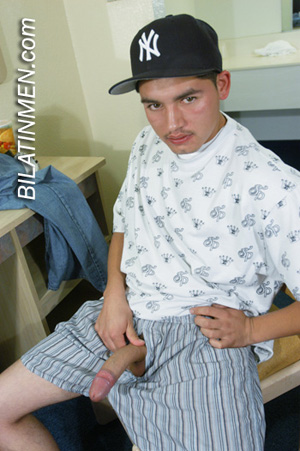 Well me and Jacob were having sex one day, and our friend Daniel walked in on us fucking! Daniel just said "Wow" and left, and Jacob said, "Let's keep fucking!"
Well the next day I was walking in the park and it was about 8 pm. I was sitting on the playground, texting Jacob. Then Daniel saw me and sat next to me and he said, What u doing man?
I told him, Nothing, just sitting here.
I asked him, "What u doing out here?"
He said, "I was looking for you."
I said, Why?
He had a big lump in his pants. So he looked at me and bit his lip and said, "Suck it, you dirty little bitch."
So I unzipped his pants, and his dick popped out of his boxers. I started to suck his salty, ruff, shaved huge dick. I played with his head with my tongue, and he was moaning and pulling my hair! Then he said, Ur going to swallow the whole thing, you bitch!
So he got my mouth and started to fuck my head, and he shoved his dick all the way in! I started to suck his balls and still jack him off!
He told me to get into the plastic playground tunnel, so I did! He told me, Ur going to get fuck so ruff I'm going to make u cry!
So I pulled his shirt off and started to bite his nipples. Then I pulled his pants and boxers down! He ripped my shirt off and slapped me, and said, Take ur pants u stupid bitch!
I told him, Ok papi!
He said, Ur going to take it so ruff and ur going to like it!
So he put some spit on my asshole! He laid on top of me and said, Kiss me and play with my asshole!
So I got some spit and started to play with his asshole and he was moaning! So when I was playing with his ass, I felt something go right up my asshole! He started nice and slow! Then he put his hand on my mouth and put pressure on my body and said, O O O ,you bitch, this feels so good and I'm not going to stop till I'm ready!
Then he pounded my ass from the front. Finally he said, U want me to fuck you hard?
I said, Yea, do me rotten!
So turned me over and he pounded so hard that the tunnel was shaking! He was so sweaty and he was slapping my ass and talking really dirty to me and saying nasty words!
Then after 40 minutes of giving it to me really ruff, he said, I have to cum!
o he gave me a few more good ass fucking pounds, and all I could feel was five shots of warm sperm in my ass! Then Daniel said, I'm not done.
So he threw me down and said, I want u to have my babies, so he fucked me one more time after that!
Now he lives with me and he fucks me on the sidewalk, on walls, on a car, in a tree, and with other guys! My next story is about my 1st big blacktino dick!