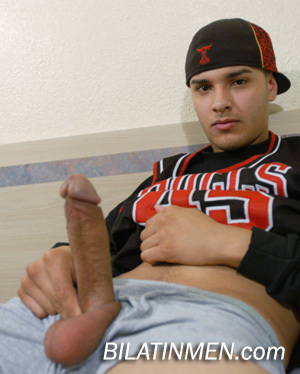 There's this guy Adrian, and I've been his friend for a long time. Recently I just had the courage to tell him that I was gay and he was totally fine with it.
But I was still a virgin. I didn't have any sexual experience, so I was always hanging around him. I had been getting really close to Adrian, so one day I asked him if he would help me get ready for my first time. He said yes, and then I asked him if could kiss him.
He went in and kissed me. His big Mexican lips were on mine. They were both so soft, and then I asked him if he would take his shirt off for me. He said, "Sure, why not?" and then I saw his tight body, his bronze skin…
Then he took off his pants. I saw his 7 1/2 uncut dick. I started to kiss his chest, then I went to his nipples and finally I went to his dick ....Oh, he knew I liked it. So then he was pushing his fat pito into my mouth harder and harder. I was loving it.
Then he started to kiss me again. I was loving it even more. Then he said, "You should bend over."
I did what he told me, and he put his verga into me. After some spit and a few minutes, he was ramming me hard ....ohh so hard. But it hurt for a little bit.
Then he turned me around, laying me on my back, and then it got fun. He still was kissing me and he was fucking me and jerking me off at the same time. With time, he was fucking me harder and harder.
Soon I wanted to cum, but he came first. Then I came all over his chest, but I didn't want it to stop so I started to his dick again while he fingered me.
For a long time, we made out and gave each other pleasure. We have been fucking every since that day. He was my first, but he's not my last…