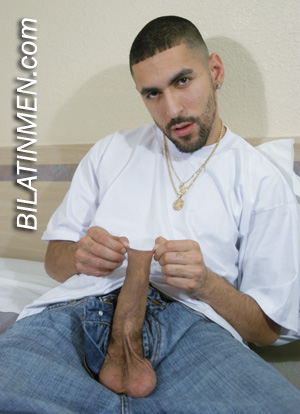 This happened last year when I was in tennis! I haven't told anyone in my family that I liked guys and I was 18 all ready!
Well I had a tennis game, and I told my cousin Luis to go watch me play and to bring some of his friends! My cousin Luis only hung out with gangsters and that was my type!
So it my turn play and my cousin showed up with 2 of his friends! One of them was named Daniel, a hot latino. He was very buff, faded hair cut. He was wearing red baggy shorts, and a black tank top. The other guy was named Jacob. He was so fucken fine too. He was bald and had only jeans on and u can see his ripped body!
I won the match, and I told my cousin to wait and let me change! My cousin and Daniel broke! Jacob stayed behind to wait for me! I was changing in the locker room, and no one was there except me. I only had my underwear on, and Jacob came in and said, "Martin, hurry up!"
I said, "Come in, I'm almost done!"
He came in, and I got hard hearing his deep voice bcuz he only had jeans on! As he came in, I was picking my pants up, and he was in front of me!
I don't know why I did it, but I just kind of brushed his dick. He said angrily, "What the fuck you doing?"
I asked him, "Do you want a blow job?"
He said confused look on his face, "What the fuck?" But he didn't move away.
I kept my hand on his crotch, and then I started to unzip his pants. Again he said, "What u doing?" But he wouldn't move away so I suspected he was okay with it. He looked around, and I popped his uncut dick out of his pants. So I started to lick his dick and he said, "O that feels good!"
He said I never did this before! So I shoved his dick in my mouth and started to suck it nice and slow! He was moaning and he said, "Suck that dick, u stupid bitch!"
He must of got off on that bcuz his dick even bigger. It was 8" and uncut and very smooth!
He put his hands on my head and he started to hump my mouth!
He said, "U dirty mother fucker, get up."
So I stood up and he slapped me. I got even more harder! He said, "I'm going to fuck u like u were my bitch."
He put some spit on my asshole! He shoved his pito into my culo all at once, and I didn't want to say anything bcuz I liked him! Then it started to get more pleasurable, and I started to moan. He was fucking me so hard, and he was moaning so deep! Then he put his hand on my mouth and he started to slap my ass! Then he said, "I'm going to cum!"
He gave me 2 big pounds, and I felt his cum all in me! Then he took his long dick out and said, "Clean it now!"
That's when I found out I liked it really ruff! Then we started to fuck once a week. One day Daniel walked in and saw us! The next day Daniel came alone, and the next time I write I will tell you what happened with Daniel.