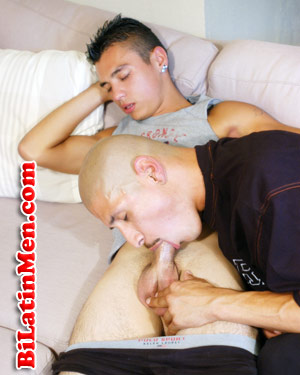 Ok. so this story was few years back. I was a teen at the time.

I have 6 sexy ass uncles. All of them are gangsters and under 30. One of my uncles lived with me at the time. He was 28 yrs old. I had a huge crush on him. He was bald, light-skinned, and by the looks of his bulge, he had a really big cock. His name was Cesar.

One night he had brought some coronas and bud lights for him and his brothers to drink. It was around 1 am, and they were still drinking. By 2 am, they were all drunk. So all of my uncles knocked out in the living room. Except for my uncle Cesar, he went to his room to knock out.

So as he was walking to his room, I asked him if I can sleep with him. He had said yeah.
So I said cool then. But knowing tha hoe I am, I decided not to bring any of my covers. So we shared a cover that night. It was about 4:30 am, and I woke to use tha restroom. As I was getting up, I rolled slowly over him to get off the bed. When I did this, I felt what felt like a 7" dick, hard.

My urge to go to the restroom was no more. Now my only concern was to get under them covers with him. So when I felt his dick, I opened my eyes wide-opened and looked at his face. He also did the same. He whispered at me in a sexy way and asked me, "You want it?"
I said yes in a heart-beat. Suddenly his dick grew about 2 more inches. I was like, Hell yeah. So he directed my head down south. So I followed. So I started teasing his dick, which was still behind his boxers.

Then I slowly licked my lips and took off his boxers. Now his juicy brown dick was at a 90° angle. He was so hard and so was I. So I began at the head and slowly licked my way down. Then I swallowed his dick. Back and forth, he was bobbing my head. All you could hear was his sexy ass, manly, deep moans.

He asked me if I wanted it threw the ass. I had told him I was virgin. He said, Don't worry, everything is going to be alright.
So he took out some lubricant and rubbed it on his 9" pito and some on my ass hole. Then he asked me if I was ready.
I told him, Yes papi.
And he spanked my ass first and told me, I love it when you call papi.
Then I begged him, Give me all you got, daddy.
Then I felt the most pain I've ever felt in my life. I screamed out loud moan. Then he said, "What's my name?"
I told him in pleasure, Daddy cesar.
Then he spanked me while he was riding me doggy style. After 5 minutes, he started going fast, and I felt his big hairy balls slapping across my ass. It felt so fucking good. This lasted for about another 45 minutes. I looked at the clock and it was 5:48 am. But I was just looking cuz it was in my face while he was butt fucking me.

Then he told my, I'ma bout to come, baby. Turn around.

So I did. Then he started to fuck my mouth. After about a good 5 minutes, he took out his verga from my mouth. And then began dick slapping my face. He told me, Take this verga, fucker. You wanted it, now u got it.

Then I felt a huge hot load of nut splash on my face. He then began rubbing it all over my face and then was bringing it all to my mouth. I sucked what I could get off with my mouth and then sucked off his dick. Then he told me, Go clean up, baby.

So I rushed to the restroom. Then I started jacking off. Then I heard a knock on the door. I got fucking scared cuz I was naked. But it was cesar. He demanded me to open da door. So I did. Then he asked me, "What? You don't want me to get you off?"

I said, Yeah. So he got behind me and started stroking my dick, and I shot a huge ass load on the toilet. I had accidently got some on his hand. He grabbed my face to face him, and he licked his fingers in front of me. Then he reached for my lips, and we were making out for a long ass time. When we finally stopped it was 5:59 am. He said, Damn, you're pretty good. You held it til 6am.

Then he went to lock his door and said goodnight and kissed my lips and slept with his arm around me. I was so happy.

After that we would fuck like twice a week for about 5 months. Until he moved to Arizona. I'll never forget his thick juicy cock!