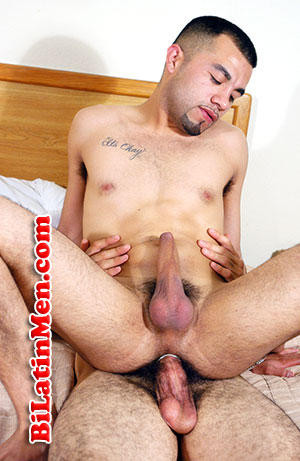 Well my name is Lalo....and im 18 years old. My first time was at a Halloween party. At that time I didn't now I liked men.
Well my friend Gustavo was throwing the party like every other year, but this time you couldn't go in without being in a costume. I decided to dressed as a cop, since I like being in control. Well, he also threw the party because his cousin Sergio from Argentina was visiting him and wanted to show him what a typical Chicago drinking party had in store.
Well, it was going on just right. During the party I was looking for Gustavo so we could plan the joke we were going to play on his cousin, since he didn't know what Halloween was like.
I finally found him. The plan was to say I was going to go and get beer, and to ask if anyone wanted to go. Then Gustavo would of said, "You should take Sergio so he can tour Chicago." After that I was going to take him to a house which was abandoned. Then I was going to hide till he got scared.
Then I made the announcement that I was going to the store to get beer as we had planned. Sergio even said, "I want to go," which made it even better for us.
We got the beer and then I went to the abandoned house. I asked him to come with me because I had to use the washroom, and there was one in there, and he said, Yes.
Once in there, since it was so dark, I tripped. Then I felt Sergio's hand on my butt. At first I thought he was trying to help me up, but no he wasn't. He was gay, and I didn't realize it till he touched me! Well, then I acted like nothing happened and got up.
Then he said, "I'm sorry for doing that, it's just that you're so sexy." When he said this, I was getting a hard on, but I didn't know why, since I was straight!
Well then I told him the washroom was down the hall, and I told him to wait. As I was walking, he grabbed my hand and gave me a passionate kiss! Man, that was my first kiss with a guy and it was awesome! Well he then started rubbing on me and touching my vergota, as he did I was thinking that it was a girl. It was till I realized the truth that it wasn't a girl, it was Sergio. Man, from this point I think I turned bi.
As we kept touching each other, he asked me,"Have you ever done anything with a guy sexually?"
I told him no, but that he was the first guy I kissed and i loved it. He then asked if he could give me a blowjob.
I said, Yes.
Man, was this guy good at sucking dick. I loved it. He asked if I also could give him a blowjob, and I told him at another time because it was my first time doing something like this.
Then he asked me to bend over. I was nervous because I didn't know whether to do it or not, but deep inside I knew I wanted his 8 inch uncut pito deep inside of me.
Since he is was so fine, and I wondered how it would feel to get fucked, I wanted him.
He said, "It might hurt, but I will do it as until you tell me to stop."
I nodded and told him to get it over already and give me all he had packing.
He said, "You should of never asked for it, virgensito. I'm going to tear you up."
Wow! Man, I thought I was in for a treat, and yes it was my first time. He went in slowly. I acted like it didn't hurt, but man I felt like running away from his fat dick.
Then he got a rhythm going, and it felt so good to feel that big pito sliding in and out of my stretched out culo.
All this time, I had been imagining in my head how to play a trick on him, and instead I ended up getting plowed in the ass by a fat pito. Damn, I was lucky.
After a while, we were both exhausted, and still he came inside the walls of my ass hole.
Even after he came, he insisted that I give him a blow job cause he was still hard like a metal pipe.
I said Yes, and I made sure to suck his dick as best as I could. I licked him clean until he shot a second load in my mouth. I drank the last drop of mecos that came out of him.
He said, "Man, that was great."
We then realized we had beer and a party to go to, and we hurried to the car. We were on the way back, and he said, "Sorry for not telling you, but I was wondering…"
I cut his sentence by giving him a big juicy passionate kiss. We were speechless till we arrived to the party. (Oh yeah, we were like 1 hour late.)
Ma,n that was the first time I did something with a guy and fuck did I love it.
Still to this day, we see each other whenever we can. I love the way he treated me.