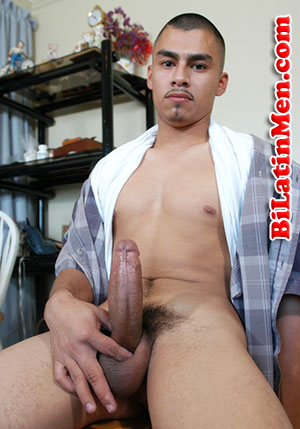 When I was 18 years old, I went on a trip to Honduras, where there are many cute Honduran guys. I had to share a room with my 22 year old cousin Pedro and his friend Oscar. Oscar and I have always been close even at a young age. And if there was one thing that I did not want him to know, is that I was GAY.
One night when my cousin Pedro was gone, Oscar and I began to watch straight porn, and as we can all guess we both got some serious boners. He pulled out his dick first and began to wack off. And I said, "Puchica amigo que haces?" (What are you doing?)
And his response to me was, "Just jack off with me so I wont feel so lonely." So, I decided that since I was hard as a rock that I should jack off as well.
The only problem is that I kept staring at Oscar's 7 inch pole. I could not believe that I was so close to such a nice cock. My mouth began to water, and I felt like asking him to let me suck his dick, even if he was straight.
Finally after a long conversation with myself, I asked Oscar to let me suck his dick. He did not say a word, the only thing that he did was get my head and bring it closer to his dick. I was on a mission to make my buddy proud of me, because there was no way to hide my gayness now.
I sucked his dick for a long time, and to my enjoyment Oscar was moaning and guiding my head all the way through. This was becoming one of the best nights of my life. Finally when I got tired of sucking I went to go lay down on my bed, and kept jacking off. This is when I saw Oscar get up to go get some condoms. All I could think about was that I was gonna be in a lot of pain if I decided to let him fuck me.
When Oscar finally came to the bed I told him that I was a virgin and scared of getting fucked.
"Mijo, there is a first time for everything, and I am gonna make you happy about being gay," was the response he gave me.
So, he lubed up his dick for a while, and I began to get prepared to feel something that I had never felt before. To make a long story short, my homeboy was my first dick. It was painful, but as a bottom I am glad that it was my best friend who broke me in. Now I can handle tops of all sizes.
I miss my homie in Honduras.