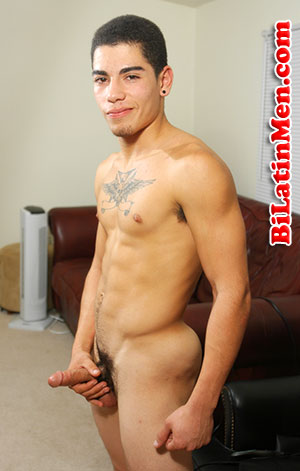 I was 18 years old when I met a couple of brothers that had just moved into my neighborhood. We became very good friends. One was was 20 years old, and the other was my age.
Late one day they invited me to see XXX movies. I arrived and we relaxed in the room, taking advantage of that their parents were working. We put the movie on (it was very hot).
After a while we each got hard ons. As we got more comfortable, we took off our clothes and we begin to masturbate to try to calm the excitement. Suddenly I noticed that my younger friend was peeking at my dick. I felt strange, but lust won me over. I started began masturbate myself in such a way that he could get a better view of my dick.
The older brother didn't feel right. He did not want to be in front of his younger brother, and he locked himself in the bathroom with a porn magazine. As soon as he disappeared, my young friend looked at me more brazenly. Then I raised myself, and I was put my dick near his mouth, wanting to experiment and to know to where this was capable of going. He turned toward the bathroom and then looked at me and said: "Better let's go to the patio, okay?"
Nervous and excited, I followed him.
We left and closed the door, blocking it so that it could not be opened. Then he knelt down and put my hard dick in his mouth, began to suck it like it was a caramel lollipop. I trembled with pleasure. I closed the eyes to enjoy the sensation, and he sucked me like a newborn calf. Because I was so excited I came in his mouth, almost drowning him, and he swallowed a good amount of cum. We went back into the room and acting like nothing had happened.
The next afternoon he went to look for me, and asked me for a ride to the soccer field. Because I have a small motorcycle no one suspected anything. We barely started to move, when in silence I felt his hands move into my shorts. He caressed my dick and hairy bells. I understood his idea. I went down a desolated area, and stopped among the bushes. Immediately he took down my shorts, and started sucking me, sighing in pleasure.
When you're 18, sex is delicious. I let him suck me, he got me hard and erect. He really excited me. Then he jacked me off delicately, I lost my head!
I lifted him and I put him face down on the motorcycle. Even though he was nervous, he let me do him. I pulled down his shorts, and he was so hot that when I saw his pink butt cheeks I could not contain myself. I began to rub his little ass hole anus with my big pito. I felt him tremble. I lubricated my verga with saliva, and also his butt hole. Then I put it into him slowly. He started to scream. I told him to be quiet, and I asked him if he wanted me to remove my dick, and he said "NO!"
He bit his lips. By me pushing it in little by little, my dick finally went in all the way inside, and it was an enormous pleasure for me. I deflowered him, that was a delicious sensation.
After 15 minutes, he was already moving by himself, fucking himself with pleasure. I told him he was going to make me cum, and he responded: "Do it inside my culo." I obliged him. I spilled myself into him until my milk drained out of the edges of his culo. After that, we repeated it a few more times more, it was all an experience.