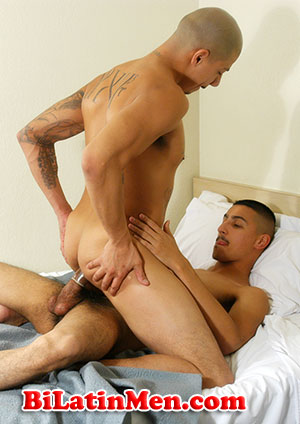 OK... This wasn't my first time having sex with a Latino, but it was my first time in a public place. It happened at a Home Depot store in my neighborhood. I had to take a piss. I went into the bathroom and, being that it was late at night it was empty except for one guy, a Latino day worker or construction worker who seemed startled when I walked in. He was standing at one of the two urinals. I walked up to the next one and barely got my dick out in time before a steady stream of piss started flowing out.
As I was finishing up, I happened to glance a look at him and couldn't believe my eyes. He was rock hard and had a nice cock. He was trying to hide it, but it was just too big, and I figured out why he was so startled when I walked in: He must have been jacking off!
He leered at me when he noticed I was staring at his dick. Then he removed his hand, and I saw his entire dick in all its glory.
"You Suck?" He said with a heavy accent. His cock was thick and veiny. The head was completely covered with foreskin. It rested on two huge hairless balls.
I got down on my knees in front of him. When I face the dick of uncut guys, the first thing I have to do is skin back the head, since I am a head freak. His beautiful head was perfectly smooth and purple, but it was covered with more head cheese than I had ever seen. I started to get up. No way was I going to suck on his dick even though he was really cute and had a nice cock. I shook my head, and started to zip up.
He stopped me and told me to wait. Dashing over to one of the many sinks, he turned the cold water tap on full, straddling the sink.
Leering at me with his head turned, he vigorously scrubbed his cock with the cold water.
"I wash and you suck?" He asked angrily.
I liked the fact that he was so masculine and a little angry. He must have been horny as hell because he obviously needed his cock sucked pretty bad. In no time at all his wet dripping cock was dangling in front of my face. Despite the coldness of the water, his fat veiny cock was still semihard and the foreskin was tight around the base of his beautiful purple head.
His groan of pleasure was almost loud enough to be heard by the people shopping in the store. I took his fat cock halfway down on the first stroke and to the balls on the second. There was no further dialog between us, other than our mutual moans of pleasure and his rhythmic grunts, each time I took as much of his cock as I could handle. He was thick and veiny, and after two dozen strokes of my talented mouth, he was too thick and long, and I had to back off from the base of his cock.
I had a bottle of poppers in my pocket and decided to take a hit. He was curious about it and grabbed the bottle. He took a big hit and obviously liked the buzz. He started aggressively fucking my face, taking another hit every minute or two. By now he did not care that I couldn't take the last two inches of his eight inch Latino cock. Already freaking out, the popperz sent him out of his mind.
His moans and whining were music to my ears. It turned me on to hear this man grunt and moan as my hot mouth worked on his dick. His head had grown to the size of a doorknob, but I felt it swelling even bigger, and I knew the end was near.
As I worked him with my mouth, lips and tongue, he gasped and threw his head back, jerking his shiny cock completely out of my mouth. With his sweaty face dripping wet, he held my head in place with one hand, jerked off with the other, and shot nine heavy wads of cum on my face.
He shot a huge load and seemed proud of it as he moved the head of his cock, directing his thick wads first at my lips, than at each eye, then at my forehead and finally my nose. I had never seen anyone shoot with such precision. Each delivery was accompanied with a piggish grunt.
He wiped his dick off on my face, zipped up and left. I jerked off thinking about him until I shot my load all over the floor. Then I quickly cleaned up and went back to my shopping!