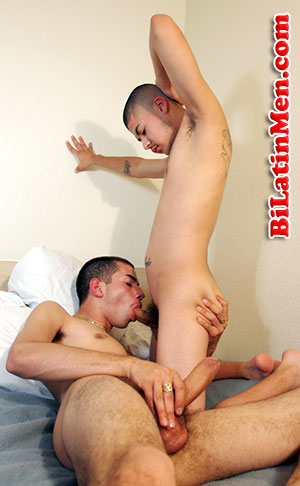 One time me and my homies Speedy, Lucky, Smokey, Lil Boy, Bandit, and Flaco were going to have a party. I was wishing so much that day that they could all get fucked up so I can see their cocks, that I loved to see, as they pissed or as they fucked some girl.
I have seen their long tasty cocks before like when we went to Oceanside, and we had to change out of our wet shorts. We went to the restroom, and they all took off their shorts and boxers. Speedy's body is the best and sexiest I've ever seen.
Lucky has the longest cock at 11 inches to his name. I stared at their fine ass naked bodies for a while cause they kept on talking even though they were naked. I was just listening and making sure they didn't catch me staring. I so much wanted to grab Speedy's cock and lick it all day and let Lucky fuck me hard!
So at the party, all the fools were already drinking a lot—coronas, bud light, tequila, shots, etc. There was only 6 hynas there and 12 vatos. There were 5 homeboys that I didn't even know, but they were cute as hell though. I wanted to suck all their cocks!
"Hey, homie, caile," Speedy said as he walked outside (Hey, homie, go to it). He was trippin, and well he was drunk.
"Hey, vato, do me a favor? Unzip my pants and pull out my fuken dick so I can piss," he said.
"What? Hells no homie!" I said trying to make sure he thought I wasn't gay. "I ain't doing that! Fuk no!"
"C'mon, homie. Somos hombres o no?" he came back at me. (Come on, homie. We're men, aren't we?)
Now I had to do it, which I really wanted to.
"Orale pues, but don't start your shit!" I said
Really excited now, I got a hold of his pants and unzipped his pants and pulled out his cock from the hole of his boxers. It felt warm, and as he pissed I really wanted to put it in my mouth. I could feel his pubic hairs as I held his cock.
"Me la quieres mamar?" he out of nowhere asked me (Do you want to suck it for me?) I dropped his cock pretending to be disgusted!
"I know u like the verga. I saw u once seeing me as I undressed, and once I was in the shower and u saw me get in," he said. I was busted.
"Chupamela. I won't tell no one," he said (Suck it for me.)
"Orale pues," I grabbed his cock and began to suck it (Okay, then). It got hard very fast.
I was enjoying licking his verga and pubic hairs. I then grabbed his nuts and rubbed them and squeezed them good. I sucked Speedy until his warm milk came out, and I licked it all clean.
"U like getting fucked too, ese?" he asked. I nodded.
"Come to my pad after the party, simon?" he asked me. I nodded again.
The rest of the party was a let down. I was pissed because the new vatos didn't piss or wanna fuck. I went with Speedy to his pad. When we got there, the 5 vatos I didn't know were there. I was like, "What?" They looked at us. They were so cute. I wanted them bad, but I thought they wanted to fight.
"We saw u guys fuckin," one of them said, "Can we join in?"
Speedy nor I minded. We began by getting naked and jacking each other off. Then we sucked each other until we decided to fuck. Speedy began to fuck me, and he was hitting hard.
I wanted to cry. It hurt so bad. I could see the other vatos fucking and sucking their long cocks. Speedy and I joined them. We kept on trading and sucking each other until we all came. Then we licked each other. I licked some fine ass vato, his chest covered with cum.
And I licked him from his chest to his cock. He was so sexy and fine.
Bandit showed up at the door step. We were all naked in Speedy's room, so Bandit came in through the window and saw us all licking each other and just fooling around with our dicks. At first, he had a problem with it, but then he let us suck his cock.
We pulled down his pants and boxer shorts, and he had his long 10 inch cock warmed up and steady for action. We all sucked his cock and let him fuck us until he came. I licked all his cum and made sure he was satisfied.
We still fuck and have a good time. Now Bandit, Speedy and I are closer than ever. We fuck and jack each other off anywhere we get the chance to like Disneyland, etc.