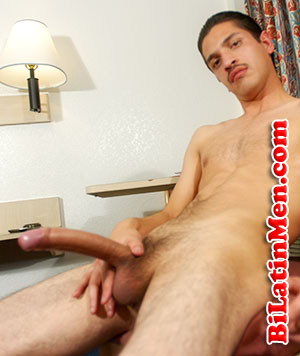 It was mid-August, and I was horny as hell. So, I went to the park like everybody else who was a horn dog and loved to fuck and suck in the bushes. I got there close to sunset.
I drove up to the parking lot and saw it was packed with cars. Damn, I was fucken hard just thinking of my adventure coming up. I am six feet tall, light skinned Latino, with tattoos, nice body with a 8.5 uncut Dick and nice chest. So, I usually hook up with fine ass guys.
Well, I decided to take off my boxers and muscle shirt in the car and just wore loose kaki shorts and a black tee shirt. It was dead summer, so I was already sweating.
I started to walk up the usual trail. I stood next to a tree with my hand up my shirt, squeezing and tucking on my nipples. Damn, they were hard. Also, that's my most sensitive part. When a guy plays with them or sucks on them, my Dick grows hard and I'll do anything. Anything!
I was looking at some guy giving another guy head. It looked good. He had a thick 9 inch uncut Dick with a lot of precum. You could smell it in the air. Well, I continued to rub on my chest. I was feeling good, so I leaned my back on the tree and opened up my shorts. I pulled back the thick foreskin of my Dick. My tip was bright red-brown in color and full of precum. My balls were hanging down about four inches. I started to jack off a little and took off my shirt.
This short, thick Latino boy came over and started biting, sucking, and pulling my nipples with his teeth. Damn, it felt good, so good I let my shorts fall. He then pulled out his fat Dick and started rubbing it on my thigh. Shit, I DIDN'T CARE. That papi was working me hard. I let him lick his fingers and stick two fat ones up my ass. I started to say, "Damn, papi, you're driving me crazy."
He didn't understand, he spoke only Spanish. That turned me on even more. He continued to squeeze my ass and nipples. I was in heaven, until a tall dark fine ass cholo came up and just grabbed my Dick hard and started to stroke it and bite me on my neck. I felt excited and scared. I had two papis on my ass.
We decided to go up a trail, so I picked up my shorts, half hanging off my ass. I walked up first. The tall cholo was slapping me on my ass and saying, "Damn, mijo, I can't wait to tap that ass." Behind him was the short mexicano. I was feeling good.
We stopped under a large tree, and the mexicano started talking to me in Spanish. I finally got it, and got on my knees to suck his fat Dick. As soon as I went down on the papi, the cholo laid on the ground and told me to ride him. He spit on my ass hole and then on his ten inch Dick. I sat down hard and rode him hard and fast as I sucked the mexicano's fat Dick. They both pinched on my nipples at the same time.
Getting fucked hard, sucking a big juicy Dick and having my nipples worked like no tomorrow, I came all over the cholo's tattooed chest. He continued to fuck me until I felt tons of warm cum exit my hole, and the mexicano filled my mouth with tasty cum.
I went back to the park the very next day, and had more fun!