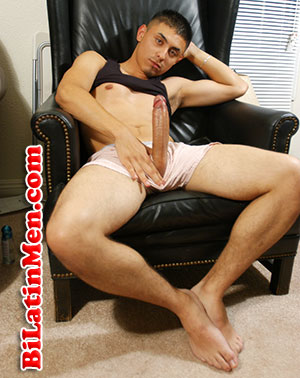 My best friend Javier and I have been living together for about 2 years. We have known each other ever since we were in high school. Our first gay experience was with each other. We even moved into our own apartment together just so that we could have more privacy from our families.
We had the same likes and dislikes, and our other friends even called us "hermanos" (brothers). We ended up dating only for about 6 months and decided to just be friends, which we were totally cool with. Javier and I decided that we were both mature enough to still live together as long as it would only be as friends. We also decided that neither of us would trip on any dudes that we would bring over to the apartment.
Javier ended up meeting this really fine guy named Marcos at one of the local clubs that we used to go to almost every weekend. They eventually hooked up and began having a monogamous relationship. Marcos knew that Javier and I used to be together, and it didn't bother him because our dating relationship had ended a long time ago. Plus, he could see that we were really close friends, and he didn't feel threatened at all.
Marcos would occasionally spend the night at the house. In the mornings when Javier would go to work early, I would wake up and see Marcos watching TV in his boxers. Of course, I could not help but to stare at him when he wasn't looking, because he was so fuckin' fine. He was a muscular pelon with a gang of tattoos all over his body, and the fact that he had a deep masculine voice was an immediate turn on. I always thought that I was slick when I would stare at him and that he didn't notice.
One Saturday morning, I woke up at about 10 am and noticed Marcos was sitting on the couch watching TV as usual. So I asked him, "Did Javi go to work already?"
He answered yes. So I sat there and talked to him for a little while. He was slouched on the sofa and had his legs open with his feet resting on the coffee table. We started talking about stupid shit, and how I wanted to get a tat just like the one that he had on his arm (a dragon blowing fire).
The whole time I was talking to him, I could see his big ass dick. He must have been at least 8 inches long. I remembered Javier telling me when they first started dating about how big it was, but this time I could see for myself why my best friend was so attached to this guy.
I was sitting directly across from him and had a good view of his big thick package. Later on in the conversation, he mentioned that he was pissed off at the guy who did his tat because he went in too far with the needle which made the tat look puffy. Then he said, "See? Come here. Feel it, it's all puffy." So I went over there and rubbed it gently, and said, "Nah, it's alright. It still looks good."
By this time, I was starting to feel all warm inside because I was touching his arm and the fact that I had just seen his big thick dick right before my eyes. I actually started to get a hard-on. I thought to myself, "I am on a roll."
So I sat next to him, and asked about the tat on his chest, and if the same guy did that one. He said no, and I reached over and rubbed the tips of my fingers in a slow circular motion around his chest, and I said, "Yeah, this one feels much better."
I could tell that he was getting turned on, because he didn't move and he started to get goose bumps. I was thinking to myself, "Should I stop?" But I thought, "Fuck it," and kept rubbing his chest. Then I moved my hand down to his stomach. I could feel his stomach muscles through his thick tight flesh.
I looked down and saw that he had a hard on that had came out of the opening of his boxers. I looked up at his face. He had his eyes closed and his head was tilted back. I kept staring at his dick and finally I couldn't help myself, so I wrapped my hand around the shaft and started to jack him off softly.
I couldn't believe how big his dick was. It was nice, hard, uncut and dark like I like them. He was moaning and rolling his hips with the motion of each stroke, as if he was fucking my hand. All of the sudden, he grabbed the back of my neck with the palm of his hand and pulled me towards him. We started to kiss heavily while I was still jacking him off.
Then he pulled my ear towards his lips and whispered, "Suck it, papi" in a soft voice. Without hesitation, I got in front of him on my knees. I started to suck on the head, then ran the tip of my tongue up and down the shaft, and then took the whole thing in. This was the biggest dick I have ever sucked, and I swore I was going to break my jaw. But I could tell by the way he was moaning that he was enjoying the fuck out of it.
So I lifted his legs and rested them on my shoulders and went for his ass. I started to lick his hole with the tip of my tongue slowly, then going faster and faster. By this time, Marcos was grunting rather than moaning. His legs started to clench up from all of the pleasure I was giving him. Then he blurted out, "Fuck me".
I couldn't believe that this masculine guy was actually asking me to fuck him. I didn't want to give up this opportunity, so I released his legs from my shoulders, and he immediately turned around and bent over the couch. I was still trippin, and couldn't believe that this fool wanted it doggy-syle.
I looked at his ass. It was tight and firm. I could tell that he was ready to have me inside of him, so I moved the coffee table and pulled my pants and boxers off. His ass was already wet from me sucking on it earlier. I started to press the head of my cock into his ass. I tried to be gentle because I know it hurts at first, but to my surprise he rammed his ass into my dick and started to go back and forth in a quick motion. He was going so fast that I had to grip my hands around his hips to hold on. It felt so good. His asshole was nice and tight and hot.
At this point, I was on one knee and used my other foot to balance me. I was about to cum, so I moved my hands to his shoulders to pull him deeper into me. I released four or five loads of hot cum into his ass. I squeezed his shoulders to signal him not to move until I was finished releasing my hot nut. When I was done, I slid my slimy dick out of his ass, and he turned around and started to jack-off. He came all over my chest.
I got up, put my boxers and pants on and went to the bathroom to wipe up. When I came back out, I sat and talked to Marcos for a while. We both decided that it was best not to tell Javier about this.
To this day, I am ashamed of what I did with my best friend's man, but it was well worth it. Marcos and Javier are still together after 4 years, and to this day Javier still doesn't know.