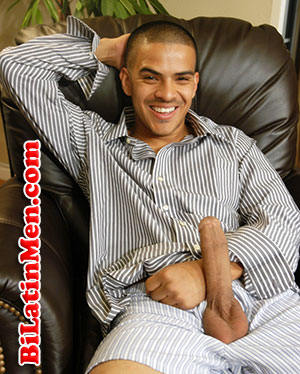 I have included a story that hopefuly you will enjoy.

It was a cool Sunday morning. The end of summer, time to enroll back to school. His brother had dragged him over to help them. He was 18 and about 6 feet tall. He looks just like a big teddy bear. I was 19, 5'11" with an average built.

I was a bit distracted when he came in. They introduced me to him, but my mind was lost in space. Hours went by and lunch came around. We started talking and joking around. I had my first crush.
He turned to around to go put something u, and there it was….a nice round bubble butt. JLO has nothing compared to it. I couldn't turn away. It was just calling me, telling me to fuck it. He came back, stared me down, and asked me if I like what I see.
I told him, Hell yeah!
He told me, "No sabes lo que te estas perdiendo." (You don't know what you are missing).
I just smiled.

After lunch, it was time to go back to class. The hours went by, and sadly it came to the end of the day. He walked by on the way out and gave me a little paper with his number. You wrote down all the numbers except for the last number in his phone number. There was a question mark instead of the last number. He told me, "Si lo quieres, sabes que hacer." (If you want it, then you know what to do).

I rushed home and started dialing. Luckily, the guessed the last number correctly, and the first number I called was his. We talked for a couple of days, and I told him I had a crush on him. He told me that he could tell. I told him that I had never been with a guy before and would enjoy being with him. He laughed and asked me if he could come over to my house the following day at 8 am. I was like, Hell yeah, I don't want to pass this up.

I couldn't sleep that night. I was just thinking about what I wanted to do to his ass. Finally morning came. His red SUV parked in front of the house right at 8. He had a blue t-shirt and really tight white jeans. It just made his ass look juicy. He asked if I was ready for a day I would never forget. Before I could answer, he pulled me close. With one hand he grabbed my dick and with the other one he held my head as we kissed. It felt so good to have his tongue all in my mouth.

We walked over to my room. He was holding my dick all the way there. We got to my room and he tossed me on the bed. Without hesitation, he pulled my clothes off and pulled his pants down too. He got down to his tight white thong. Underneath it was his dick just ready to get out. I pulled him down to the bed and we started kissing again. While kissing I pulled his thong off and finally I could see it, his hard dick and best of all the bubble butt.

He told me to close my eyes. The next thing I felt was his lips wrapped around my cock. His head started going up and down. I felt in heaven. Just as I was about to cum he stopped. He said, It's time. Just then I felt him jump on top of my dick. He started riding it. It felt so tight. After a few minutes he got off and told me to stand up. He got on all fours and told me to go for it. His ass was huge by then. Slowly, he said, and so I did. As I started going in, he moaned. Faster, he said, don't stop, go faster. After what seemed like hours, he told me to stop.

I pulled out and he turned over to get on his back. He pulled his legs forward and told me, "I'm sure you know what to do."
I was like hell yeah! I got close and started sliding my dick inside his huge tight ass. He pulled me close, and we started kissing as I fucked him. Then he pulled his head back and started biting my neck. I didn't want it to end.

I told him, I wanted to cum.
He told me, Take the rubber off, I want to feel you drop it in me.
I took it off and then went back to slide it in him. Just as I was about to cum, he grabbed my ass and pulled me closer. I couldn't hold back anymore. We both moaned as I was cumming in him. I laid on top of him out of breath for a few seconds.
Then he asked me, "Te gusto?" (Did you like it?)
I was out of breath, so I just shook my head.
He asked, "Do you want to do it again now or later?"
I said, "Both." He laughed.

That was five years ago. We have been together since that day. Every night feels better than the last, but our first time is the one that I will never forget.