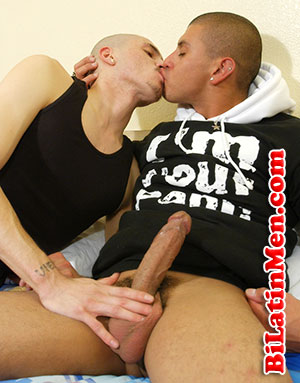 It all started my freshman year in college. I met the best guy ever! We became friends, but I always wanted to be more. I thought he was sooo cute, really handsome, and I knew that he had a big cock! I would soon find out!
Anyway, we started getting closer and closer and closer, until one day I decided to sit on his lap! He was like, "No, papi," and I was like "Por que?" (why?).
He wouldn't tell me. So he went home, and he calls me when he gets there. I joked, "So, why wouldn't u let me sit on your lap, babe?"
"Because, papi, I had a boner," he answered. I couldn't believe he actually felt the same way! He told me that he really loved me, and he didn't know that he was gay until he met me, and knew that I was the one. The next day after school, he came to my house, and we kissed for the 1st time. It was the best kiss I had ever had. I knew that he was the one!
We decided to go to mi cuarto (my room). He laid him on the bed, and I unzipped his pants. As soon as I did, a big 8 inch cock popped out! I gasped because I knew that I was gonna love sucking his dick!
I stuck his hot 8 incher with pre-cum dripping from it into my mouth. It tasted so good! I loved every minute of it. He groaned with pleasure! Then he wanted to fuck me. So I took off my pants and undies. He stuck his fingers in my virgin hole to get me ready for his "thicky."
I got on top of him, and he stuck it in me. I got on top so that I could ride him, and be in control of penetration. It hurt really bad at first, but then I started to like it. It was hot and sweaty. I was getting really tired, but I loved every moment. Then he wanted to do a different position, so he told me, "Hey, papi, vamos hacer doggy style!"
I agreed because I wanted to do everything he wanted me to do. I wanted my papi to take control. I turned over in front of him, and he began to pump my ass! He was whispering in my ear, "Te quiero much, te amo, tu es mi amor" (I love you a lot, you are my love), all sorts of great things. But I could hardly respond. It felt so good. I didn't know what to say. All I could think of was, "Te amo"( I love you). I screamed it!
After about 20 more minutes, he told me he was about to cum. I wanted to taste it, so I told him let me suck him again. He pulled out, and I began to suck him again. Pre-cum was coming out of him like a water fountain. This was only a fraction of what he had to offer.
"I'm gonna cum! Aye!" he screamed and shot his load in my mouth. It felt like a river. It kept flowing, and I kept swallowing. It tasted so good.
We laid next to each other, knowing that he'd have to go home soon. He told me how much he loved me, and that he'd never want to leave me. We kissed, fucked again, and he went home. I'll never forget that night.