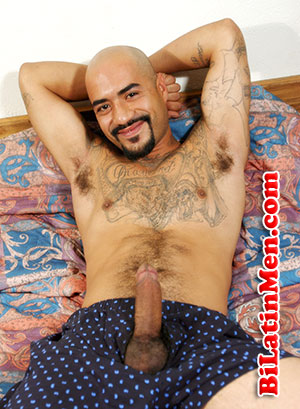 One time I was at some party, and I was all messed up. I was staring at some fine ass homie called Bullet invited to the party. I didn't know him, but I really did want to meet him. I went up to him and began talking to him. I was nervous cause everyone at the party, full of fine ass Mexican homies, was straight and wells I didn't want anyone to find out about me.
"What's up?" I told him, trying to be cool.
"Fuk, I gotta take a piss," he said, grabbing his crotch. Then looking at me, he said, "Come with me, ese."
"Simon," I said, waiting to see his cock.
I was so nervous, so I made conversation. He stared at me for a while. I looked confused. He tried to make conversation as he pulled out his 9" dick out and started to pee.
I was trying not to look, but it was hard not to. His cock was brown and uncut. He began to stroke it, and he looked at me with wanting eyes.
He was so cute, and he unzipped his pants and lowered his oversized "Solo" pants. His black pubic hair was covering the top half of his cock. His cock was now standing at 11" and I was like "Damn" as I saw it erect.
He stared, and I began to suck it and lick the top head of his cock. I was enjoying the pleasures, and I could feel his semen flowing little by little. He was moaning as I went down on him faster and faster. I didn't stop until he came right in my mouth! He let me suck his cock until I dried it up.
"U give good head, homie," he said as he put his cock back in and pulled up his boxers and pants and buckled them.
He was still starring at me. Then he said, "U wanna fuk later on? I ain't gay or anything. I just wanna know how it feels?"
I said yes to him, and I went back to the party. He came back into the party later on.
When I saw him almost leaving, he called me over, "Hey, u wanna come? We're going to my homie Puppet's house."
I said "Yes," and I got in the back seat with his two homies. There was 4 of us in the car. Whisper, a flaco, cute and tall gangster, was my favorite vato.
When we got to the house, Puppet was in the house with two girls. He came out w/out a shirt and only boxers.
We went in the house. The two girls were in a room butt naked. Then Puppet and Smokey went into the room, but didn't shut the door. I walked to the door with Bullet. We saw Smokey pull down his pants and boxers and begin to fuk one of the girls while Puppet fuked the other one.
Puppet had a 8" dick and had a good ass body. Smokey had a 11" cock and fine ass cuerpo as well. One girl began to suck Puppet's dick while Smokey was fuking her through the back. Scooby, a flaco very sexy cholo, came in and also got butt naked and began warming up his cock as he watched them fuk.
"Hey, Scoobs, my homie here wants to suck your cock, ese," Bullet said. I was worried. Scooby came to me and stood butt-naked in front of me.
"U wanna suk my cock?" he asked.
"Ya," I said to him.
"Suk it then," he replied.
I began to suk it as I saw bullet get naked too and grab some vaseline. He warmed up his cock and placed it in my ass. It hurt, but then it loosened. I was suking off Scooby as Bullet pounded me with strong hits. Then Bullet and Scooby took turns fucking me.
Shadow came in and got naked too and then began fukin Bullet through the ass. Then Shadow fucked the girl that Smokey and Puppet had cum on. Puppet's cock was so hot and tasteful that I ate his cum when he came in my mouth. Bullet and Scooby then came in my mouth, and I was so happy.
We get with each other almost every weekend.