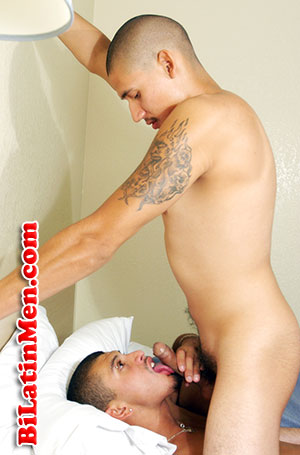 Well this story begins when I was 18.
We got invited to a quinceañera somewhere in a Norwalk house. The quinceañera was for one of my political aunt's niece. As u might know, I'm Mexican-American. At that time, I was 5'10", brown skin and 150 lbs., very good looking with a nice butt.
Well all my tia's nieces wanted to dance with me because I'm a very good cumbia dancer, but I just wanted to dance with my political aunt's brother.
He was so cute and very straight looking. He was getting drunk and offered me a beer. My aunt got mad, but she let me drink it after he said, "Come on, let him turn into a man."
Well after the first beer came, another 5 more beers came. By this time, I was drunk, and my aunt told me to stop drinking, so I did. Her brother was very drunk, so at the end of the night, my aunt ended up taking him home with us telling him that he could spend the night with Beto (that's me). As soon as I heard this, I got an instant hard on. I couldn't wait.
On the way home, he was leaning against me, and I didn't mind. As we got home, he started walking down the street, and my aunt told me to follow him, and I did. A couple of blocks down, he started taking a leak. For the first time, I saw his flaccid dick. It was about five inches soft. He saw me looking and didn't say anything. We went back home to sleep .
That night when he was sleeping in my bed, I started touching his dick while he had his pants on, and I felt it growing. I got brave and decided to open his zipper and take out that monster that wanted to get out. But he woke up and wasn't too happy to know that I had his dick in my mouth, and he pushed me away.
I was sad. I wanted to keep on tasting his uncut cock that tasted so salty. I decided to forget about it and go to sleep so i gave him my back.
I started feeling a hand touching my butt, then I felt the hand touching my glory hole. I pretended to be a sleep. The finger was now entering my ass, and it was a great pleasure. Then I felt a second finger go in, and I wanted to scream of satisfaction.
Then suddenly I felt something bigger that started to go in my ass. I knew it was his big 8 inch uncut cock and it felt so good to have his meat up my ass. He started to work his tool in my ass with a force of an animal, making me lose control of my feelings. But it didn't last long. I felt his dick pulsating inside my ass and shooting warm mecos inside my ass. He left his dick up my ass for the whole night.
When I woke up, I saw my cousin standing in the doorway of my room, and here I was in bed with my uncle's dick up my ass, so I had to promise my cousin that I would let him fuck my ass if he didn't tell anyone that he had seen my political aunt's brother fucking me, but that's another story till next time.