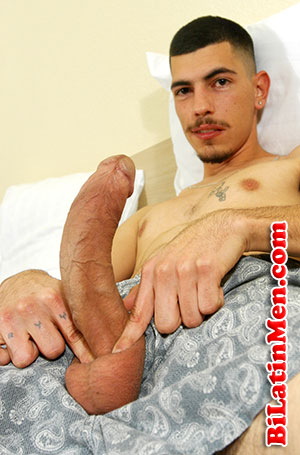 One Saturday night I was in my room hearing music. While I was hearing music I turned on a porn movie cuz I thought no one was home, but then my brother's homeboy Michael came in and saw me watching it, so he sat down beside me to watch it. Michael was tall, light skinned, bald and had a great body.
We were watching a guy fuck a girl doggy style, and he told me he had a fucked girl doggy style before.
"It was firme," Michael told me, and I was very horny now.
So I looked at him and saw that he had a huge hard on. So I leaned back so he wouldn't see me looking at him. I finally got the courage to ask him if he wanted me to jack him off.
He said, "Hell no."
So I felt embarrassed and started laughing and said, "You really believed me huh?" and he said, "Fo sho."
So we kept on watching the movie, and he looked at my dick and saw that I also had a hard on. So he told me if I could get him a glass of water, and I got up to get a glass of water. While I was out he started to jack off. But he didn't know I would be back so fast, so when I came in, I saw his dick. It might have been 9 or 10 inches.
So I acted like I didn't pay much attention so he kept on jacking off. I also wanted to jack off, so I started to jack off and he said, "Come jack me off, fagget."
I said, "Fuck you," trying to play it off. So he then grabs me by my shoulder and puts my hand on his dick, and I start stroking it back and forth slowly and going faster. He moans, and I grab his ass. I squeeze it and stick a finger in his ass, and he lets out a loud moan.
I start seeing his pre-cum and suck it. So he asks me, "Can I fuck you?"
I say, Yes, please.
He turns me over and grabs a hand lotion and puts some in my ass and some on his dick. Since this was my first time being with a guy, it did hurt a lot, but after a couple of times his cock went in, it started pleasuring me. He let out moans and so did I. I asked him to stop because it hurt, and he said, Hell no, you wanted it.
So he kept going. When he was going to cum, he stuck it in all the way and made me scream. The cum was coming out of my ass. It was spilling, so I turned around to suck all the cum off his cock. It was still throwing juice. It was so great.
He then gave me a blowjob till I came in his mouth. It was the best day of my life, and we still fuck once in a while. He never brings other guys. It's just me and him.