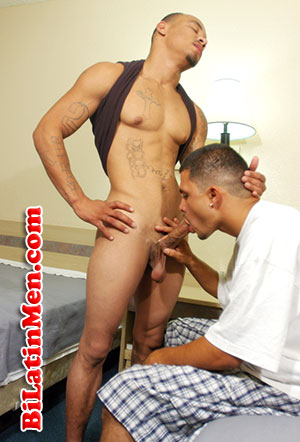 About six months ago I placed an ad on Yahoo Classifieds. Image my surprise with the responses. Two of the responses were from guys that are married to women.
I exchanged email with the two of them over a period of a month or two. The one I want to tell you about was very fun and hot. His name is Lalo (not his real name, a name I happen to like a lot) the other one's name is Nestor. We spoke on the phone a few times, and I sent him an email responding to his request, "what will you do to me when we meet?"
After an additional month of emails and phone conversations we agreed to meet on a Sunday morning. Lalo showed up after work, and he was such a handsome and sexy man. Not the pretty handsome, the more natural manly handsome. We chatted and asked each other did we like what we saw. We both agreed and stood up just to compare each other's height. You see, I am 6'1" and 235 lbs-stocky, and Lalo is about 5"7" and 145-150 lbs.
As we were standing there, Lalo acknowledge that he liked my height and stocky build. He said, "I will enjoy being in the arms of a big strong man like you." We hugged and started kissing each other. I mean really kissing; you know the kind that moves you and you don't want to stop. A deep, soul-searching, intense kiss. The chemistry was just right between Lalo and me. As were kissing, we touched each other all over. I managed to remove Lalo's shirt and start touching his beautiful torso. I couldn't get enough of touching this man, and he loved every minute of it. He then removed my shirt and buried his face in my chest. We hugged, we kissed, and Lalo said, "I really love being in your strong caring arms. I feel safe." As we continued to hug and kiss and touch each other, we finally loosed our pants and let them drop to the floor.
Lalo's hard dick was pressing against my thigh through his briefs and mine against him in my boxers. I pulled away from Lalo and guided him to the bed in the next room. We stood at the side of the bed and hugged and kissed some more. I laid Lalo on the bed and started at his stomach and licked up his body to his lips and then his face. I enjoyed very much giving this man a tongue bath. As I was licking and kissing his face I moved my hands all over his body. When I continued my way back down his body, he wanted to remove his briefs, but I would not let him. I licked his dick through his briefs until they were wet and then started to lick his inner thighs. He really started moaning, asking me to stop and then begging me to continue. I worked my way down one leg and up the other. I stopped at his knee and started sucking on it, then I raised his leg and licked behind the knee and Lalo screamed, "Damn Papi that feels good. Don't stop!"
When I was done licking each of Lalo's ankles, I place them on my shoulders and leaned over and kissed him while rubbing my hard dick into the crack of his briefs-covered ass. Lalo moaned even more as I dry humped and kissed him. When I lowered Lalo's legs, I turned him over onto his stomach to work on his back. I started biting a little on the back of his neck. Hard enough to excite him and soft enough not to leave a mark for his wife to see. I started licking down his back, and he was moving and moaning and started speaking words in Spanish. I didn't understand what he was saying, it must have been good because he didn't ask me to stop. When I reached his ass, Lalo once again tried to remove his briefs, and I wouldn't let him. I kissed his little fine ass until those briefs were as wet as the front. I went down one leg and up the other licking and biting and caressing them. Finally I laid on top of Lalo's back and started riding his ass with the briefs as a barrier. I turned his head and kissed him. He looked at me and said, "If I had known it was gonna be this good, I would have come to see you sooner."
I rolled off of Lalo, and we embraced. He said, "I love the way you use your tongue and hands on my body." And then he started licking and touching me. He sucked my dick through my boxers and tried to take it out, but I wouldn't let him. Lalo looked at me and said, "I haven't sucked a dick in about 2-years. Please let me suck it." What was I suppose to do, looking in those beautiful brown eyes? He pulled down my boxers and swallowed my dick like it was the last time he would see a dick. I loved every swallow and every lick and every caress that he gave to my dick. His handling and care of my dick made my toes curl. As he sucked it he said, "Hershal, you have a nice uncut black dick." And then has asked, "Will you suck mine, please?" So what was I suppose to do but suck it?
As we sixty-nined I played with Lalo's ass cheeks and then his ass-hole. I noticed for the first time that he had a little hair in the crack. With such a close view I had no other choice but to blow on his hole and lick it. Lalo pulled away and told me he has never had his ass licked. His wife doesn't even suck his dick. I told him to relax and just let me show him a thing or two. I started to just touch his ass and he pulled away. We started to kiss, and he let me play with it a little as we kissed. I rolled Lalo over onto his back and raised his legs and started sucking his dick like a Hoover and licking his balls and the crack of his ass. He said No, but he kept pushing his ass into my face. I pushed his knees to his chest and feasted on his ass like it was a feast meant for the gods. I alternated between his ass and balls and his dick. Lalo loved my mouth all over his private areas. One time I went deep into his ass with my tongue and he screamed, "Hershal, please fuck me, man! I want it bad. Give it to me, papi!" Then he laugh and asked,"Will you be my daddy?" and I smiled and said, "Who's your daddy?" Just the though of it all made my dick extra hard.
Lalo placed a condom on my dick with his mouth. Then he looked into my eyes as he lowered his fine little hairy ass onto my dick. He went slowly until he was use to the fit. He smiled at me and asked, "So, do you like my ass on your dick, papi?" At the same time, I pushed my dick up into his ass, and he pushed down onto my dick, and we both moaned with pleasure. Lalo rode my dick like a person rides a runaway horse. He bounced up and down on my dick. He grinded his ass onto my dick. He balanced on his feet and raised himself just enough for only the fat dick head to be in his ass and then he dropped onto my dick. I was going crazy with such intensity and pleasure. Sitting up, I told Lalo to put his arms around my neck. I moved to the edge of the bed and picked him up. I raised and lowered Lalo onto my dick for a few minutes. We fucked, we kissed, and he loved the feeling and liked the fact that I had picked him up. Lalo looked at me and screamed, "Hershal, I am gonna cumming!" At which point he grinded his ass into my dick and came. Continuing to grind his ass onto my dick, he said, "I really needed that."
I lowered Lalo onto the bed and drove my dick in and out of his ass slowly and then faster. Lalo looked at me and said, "Fuck me harder, papi. I want to come again." I responded by going slower and then faster and then harder, slamming my dick deep into his hot little ass. Just as I told Lalo I was cumming, he came again.
We laid there for a little while with my dick buried in his ass and kissed and finally we separated and took a shower together. The shower seemed to last for quite sometime. When we got out of the shower, I toweled off my little hot buddy. We laid on the bed and talked for a little bit and he had to leave. We promised to get together again. That was about a month and half ago. I can't wait. Next time I will to write about another married man I spent a morning with.