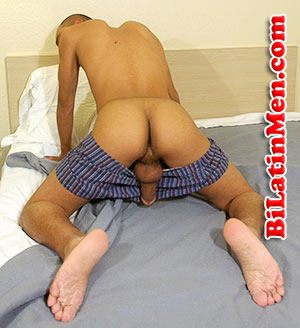 I grew up with my mom in the East Los Angeles area. I have two younger brothers, Jaime and Jose, and we all have different fathers. After divorcing my youngest brother's father, my mom dated a lot of guys. The guys she dated were nice looking and treated her well.
She used her boyfriends for different things. For example, one guy was a butcher, and he brought us boxes of frozen hamburger patties. Another guy was a mechanic, and he fixed her car for free. A guy who owned a store gave us shoes. Every time she needed something, she used a guy to give it to her. My friends laugh about this now, but it's true.
Let me describe my mom. She's short about 5'1", dark skinned, with a round face and prominent cheek bones, small devilish eyes, and a high-pitched, crane-like laugh that lets you know she likes fun. She dyes her hair tones of red that come alive in sunlight, and she dresses in tight dark skirts and puts on strong-smelling perfumes, silently calling the attention of men. In other words, she's a sturdy, resilient and successful flirt.
I myself am a little bit feminine, but my two brothers are very masculine and jocks. Being the eldest, I cooked and cared for my two younger brothers since my mom was away on dates a lot. When they got older, my younger brothers protected me, and intimidated and beat up guys who called me "faggot." Even before I was attracted to men, guys were already calling me fag. Later in life, these same guys that called me a "fag," asked me to suck their dicks when we were alone.
We were renting a large house in East Los Angeles with a big front porch when my mom was dating a guy named Leonardo. One night my mom got into a fight with Leonardo over the phone, and she told him not to come over. My mom then took off on a date with another guy named David in his mini-van. An hour later, Leonardo showed up on our front porch, looking for my mom. Being the good little son that I am, I covered up for my mom, but because he was so cute, I let Leonardo in and asked him to wait for my mom even though I knew she was going to be gone for a long time.
Leonardo sighed his disappointment and walked inside the house with a masculine but dejected gait. He was tall, about 5'11", with dark short hair, light skin and big hands covered in masculine veins. He was about 23 or 24, much younger than my mom.
He sat on the sofa in the living room facing the big television screen, and asked where my brothers were at. I told him they were at the park, break dancing (that was in the 80'swhen break dancing was popular). He asked for something to drink, and I came back into the living room with a glass of Coke.
I sat down on the floor right next to his leg to watch TV with him. He had a goodlooking face with dark eyebrows and strong, pronounced lips that curled a little at the edges as he watched the Spanish sitcom on TV. I was really attracted to him. I had never been with a guy before, and my heart was pounding a mile a minute as my shoulder touched his leg.
I twisted my body and put my arm on his knee, "Hey, Leonardo, do you have any kids?" I asked.
I kept my hand on his knee, enjoying the hard masculine feel of it.
"No," he said with a sly smile, "not that I know off."
I told him I was going to get him more soda, and I put my other hand on his other knee. Using his two knees for support, I lifted myself off from the floor and walked away into the kitchen, switching my ass a little in case he was watching.
This time when I came back, I sat down on the floor between his legs. I was getting horny, and I think he noticed I was coming onto him.
When he talked to me, his voice sounded lower and sexy as if he were getting hornier too. I looked up at this crotch area, and he was getting a big hard on that tented his pants. I was getting hornier too, so I kneeled in front of him. I tried to act as if we were having a friendly, innocent conversation, but I rested my hands on his two thighs and squeezed quietly, feeling the muscular legs underneath.
His dick responded by getting longer and harder, but he kept acting as if we were having an innocent conversation. I couldn't take it anymore, and I thought his dick was going to burst his pants, so I reached up and squeezed the thick head of his cock. He sighed and spread open his legs a little more. I couldn't believe how thick and hard his dick felt.
I popped open the buttons of his fly, fished in his underwear and brought out a very fat uncut cock. I couldn't believe my luck. He asked in Spanish in a very husky deep voice, "Are you going to tell your mom?"
I didn't answer his question. I just swallowed his cock. It was fat around like a bottle of shampoo. I couldn't believe how good it felt as the thick base spread open my mouth. I pulled his underwear down more and grabbed his balls, which were big, well shaped and hairy. I moved my head up and down faster on his cock.
"Suck me good," he said, pulling me towards his thick dick by my ears.
Then he got up and fucked my face, holding the back of my head and saying, "Cabron, te gusta mamar" ("Fucker, you like sucking dick.")
He put one foot up on the sofa to fuck my mouth more expertly with his super-fat seven-inch cock. Then he pulled his dick out and slapped my nice juicy lips with it. He asked me if I had been fucked before, and I said no.
The next thing I knew I was laying naked on my back on my mom's bed, my legs bent backward and Leonardo holding my legs in place. For a long time his fat dick head pocked at my ass, but it wouldn't go into my virgin asshole. Leonardo's face seemed eager, frustrated and determined to fuck his girlfriend's son. He licked his hand one more time and shined the missile head of his dick one more time.
This time when he pushed I felt something awful. I felt something entering me, and I wanted to crawl away on the bed in fear, but he held me steady. Inch after inch started to enter me, and I thought something awful was going to happen, but instead my breathing got deeper and deeper as I realized having more and more of him in me was pleasurable.
Once he was all the way inside, he said, "Now I'm really going to fuck you." He pushed down on my les to get better access, tilting my ass higher in the air, and then he started pounded me harder. I felt his long hairy pubes grinding against my asshole, and his big dick was stuck in my ass like big glorious elote (corn cob). I didn't want him to stop. Finally, he stuck his dick in and out of my ass faster than I thought imaginable. He moaned in a real masculine way, pushed my legs down till it hurt, and then his cock gushed its hot thick endless man cum inside of me as he grunted and groaned, giving me all his love.
When he finished, he slid his slimy dick quickly out of me, leaving my asshole gaping open like the hole of a bitch, and told me I better not tell my mom or he was going to kick my ass. I felt a little rejected, but asked him if could suck his dick again sometime, and he said in Spanish, "I don't know," maybe because he felt guilty.
The next guy I sucked was my mom's boyfriend named Gerardo. He was a mechanic and only 19 years old. I couldn't believe my mom was dating such a young guy, but he was the cutest of all my mom's boyfriends, so I flirted with him the hardest. Flirting runs in my family. My two younger brothers are straight, and they are big ladies men too, fucking a lot of women and getting blow jobs.
But let me tell you about Gerardo. He was a real nice guy, and one of the few guys my mom dated who spoke English fluently, so I liked him for these two reasons.
It took me a long time to seduce him. He lived near our house in a rented garage that he turned into a room.
One day I showed up at this garage with the sole intention of seducing him. He opened the door and said, "What's up?"
His eyes looked beautiful and I wanted him. We went inside his garage, sat on the bed, and started smoking a cigarette.
We chilled and had a good conversation. I looked around his garage and on the walls he had calendars and posters of half-naked women posing in bikinis. He looked at the posters through his drowsy eyes and blew the smoke out through his lips.
On the side of the bed, he had a weight-lifting bench and weights on the floor. He had a hard, beautiful, masculine body. "Do you work out?" I asked him even though it was obvious that he did.
"A little," he answered.
"Do you have a six pack?" I asked him. We were both laying on our backs. I didn't wait for him to answer. I turned on my side and slid my hand underneath his black T-shirt. He didn't say anything. I felt his skin for the first time. It felt smooth and hot. With my fingers I twirled the little
trail of hair over his belly buttun. Then I pressed the palm of my hand flat against his stomach, feeling his hard six pack. "That feels nice," I said. "Let me see it."
I lifted his shirt up and saw his beautiful six pack and part of his chest. I started rubbing his chest and his stomach, telling him how nice it looked and how I wished my body looked like that. Before long, this homeboy started to get a hard on in his pants, and it was fucking big. I grabbed his big dick, and Gerardo closed his eyes as if he didn't want to see any guy
grabbing his dick.
I opened his pants and he had a big dick, about nine inches long, sticking straight up past his belly button and very fat with nice big balls at the end. At that point, the only other hard dick I had seen was Leonardo's, so I thought Gerardo had a big dick for being a young kid.
As soon as I started sucking his dick, I knew I enjoyed it even more than Leonardo's. It was just bigger and straighter and just as fat. At first, Gerardo layed still as if trying to pretend he didn't know I was sucking his dick, but then he started feeding me his long cock slowly. In my mind, I thought, "Damn, my mom must be enjoying this cock? Now I'm gonna enjoy it too."
Gerardo was so beautiful, I asked him to take off his clothes. He kicked off his pants, and he layed in bed with his hand holding his big hard on up for me. He had a muscular hot body, and I jumped on top of him, massing his soccer muscular legs, but then going back down again sucking his big thick pole.
As I held onto his big symmetrical pole, pulling down the foreskin, I thought to myself, "This is perfection." I let the big cock go down my throat, and then with my cocksucker lips crawled my way down his cock until my lips were in his pubic bush. At this point, he would sigh and squirm and hold the back of my head with his hands. (I had been sucking Leonardo's dick once a week for about three months now, which taught me the pleasures of deep throating.)
We then switched positions with my young straight papi standing up in front of me, and his thick nine-inch cock sticking out in front of me, pointing towards my lips. "Damn," I thought, "I don't know what I like more, looking at it or sucking it."
I hooked one arm around his leg, and brought the straight boy's big dick into my mouth. His big dick had my mouth stretched out with saliva and salty precum running down the sides. I grabbed his nuts, and then the boy's legs started bucking back and forth, sliding the big dick in and out of my mouth. I knew he couldn't last long.
His cum started to blast off in my mouth. The dick moved back and forth like a piston, so some cum shots went off in my throat and other shots went off on my tongue in the middle of my mouth. He was coating my whole mouth with cum. His dick got even bigger and harder, and I held it by the base as I cleaned it up for him.
After we were done, he put on his jeans and hid his giant dick, and he acted quiet like we did something wrong.
A few weeks after that, Gerardo went to my house, and he fucked my mom in her bedroom, and I got jealous listening to them, but what could I do? After this happened, I went back to his garage a few times, and I sucked him off again. Sometimes I would be sucking on his big nine-inch cock while he stood in front of a mirror admiring himself.
Another time I sucked off another of my mom's boyfriend whose name was Felipe in his truck. Felipe picked me up and we went to pick up my mom at the hospital where she worked as a nurse. My mom told us she was going to be one hour late because she had to work overtime, and then she left us alone in the parking garage.
After my mom left, I made fun of Felipe and told him it looked like he had a hard on because the material of his pants was bent upward at the crotch. He said he didn't have a hard on, and I said he did (even though I knew he didn't).
"De verdad, no la tengo parada," he said ("Really, I don't have it hard.")
I probably shocked him, but I said, "Let me see," and I started to massage his crotch.
His dick felt asleep, but fat.
I didn't wait for it to get hard, I bent my head down right away between his stomach and the steering wheel.
"What are you doing?" his question sounded surprised.
"What you like," I answered.
Then I started blowing his soft cock. His cock grew to about six inches, and pretty thick. I polished the head quickly, and moved up and down on the shaft as fast and hard as I could because I knew I didn't have a lot of time. I swallowed his cum quickly. As he came, he cursed quietly in Spanish and bucked his hips up into my mouth.
Felipe told me in Spanish, "Fucker, I never thought my girlfriend's son would be blowing me."
When my mom came back, she sat between us, and I smiled knowing I had just blown her boyfriend. In her usual flirtatious way, she joked and rubbed up against Felipe, who leaned up against her in a real masculine and satisfied way. It's obvious I picked up my flirtatious way from my mom, but she doesn't know I also picked up a few of her men.
But I think my favorite piece of meat was Gerardo's. That's the best dick I've sucked even to this day. I loved to sit down with Gerardo standing in front of me, and his perfectly straight huge dick sticking out in front of me, and me holding that big piece in my hand. It was just beautiful. I'd pull the foreskin back, can take the perfectly symmetrical big dick in my hot mouth. The other good thing about his dick is it got harder than any other dick I knew. The taste was also just perfect. I hope one day to find a dick as good as his.