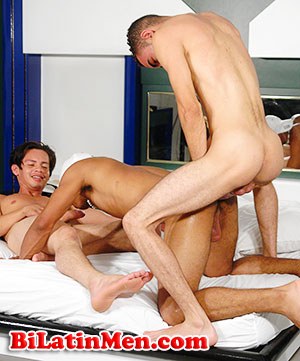 My friend told me about this huge park in El Monte where gangsters go to get their dick sucked, so I decided to check it out.
The park is bordered on one side by a main highway. My friend said that homeboys park their cars there at night, and that you can see heads bobbing up and down as the homeboys are getting head.
I didn't believe my friend, but I love masculine guys so I decided to give it a shot.
I went to the park on a late Sunday afternoon. The park is huge, and I didn't know where to begin my search for cholo dick. At that point, there was a park beautification project going on, and one of the huge lakes in the parks was completely surrounded by a chain link fence to keep people out. Someone had cut out a big hole in the chain link fence, so I decided to go through the hole and begin my search there.
I first came across a restroom with a number stenciled on the side. The restroom was deserted, but what I found inside turned me on immensely. I found a glory hole chiseled through the cement partition and writing on the wall, saying "I suck cholo dick." I never knew there was a place like this for masculine, Latino gang members to fuck around.
The sun was already starting to set as I walked deeper into the park. I had a feeling things would get more exciting in this secluded part of the park under the cover of darkness.
Up ahead I saw three or four guys moving between trees. I decided to walk in their direction and check it out.
There was a big area with an overhanging roof supported by brick walls, and picnic tables and barbecue grills under the roof. The guys disappeared behind one of the walls, and then I didn't see them. When I turned around the corner, I saw one guy sitting on top of a picnic table, and another guy sitting down between his legs on the bench and giving him a blowjob. The fine guy getting head looked straight and fuckin' cute. I couldn't believe my eyes. There was another homeboy watching the action close by as if he were waiting for his turn to suck off the fine homeboy.
Suddenly the guy giving the blow job turned up and looked at me. He was pelon, he had dark eyebrows, a fuckin' handsome face, and his lips and chin were glistening with saliva from the messy blow job he was giving. I almost came in my pants when I saw that gorgeous specimen of a man. I immediately grabbed my crotch to my pants to show him I was interested.
He closed his eyes in a lazy, lust-driven gesture and want back down servicing the fine homeboy. As I walked over to them, I felt my heart locked in my throat, my hands felt dry and wet at the same time, and my whole body felt jittery because I was so excited and turned on because the situation was so new to me.
When I got close, I could hear the slurping, sucking sounds the pelon guy made sucking dick. The pelon guy also played with the ankles of the fine homeboy as he serviced him.
I got a good look at the third homeboy. He was also pelon, but his hair was growing out a little, he had eyebrows that almost touched over his nose, he was a little stocky and he talked in a husky voice.
The stocky guy told me, Let me see your dick. He dropped to his knees in front of me and unbuckled my pants. My eight inch uncut dick popped out. He rubbed the head on his lips a little before he started sucking me. That boy knew how to give head. He put his big hands on my ass and pulled my dick into his mouth until my cock head was lodged in his throat and his lips held tightly onto the base of my cock. His mouth was all liquid heat and motion, and no teeth. It amazed me how a guy so masculine could give such good head.
Even though I was enjoying the blow job, what really got my attention was the fine homeboy who was getting his dick sucked. He was one of the best looking guys I had seen. As he sat there wearing a black sweatshirt with his hands on the table, it was hard to believe he was letting another guy blow him.
As the stocky guy blew me, I moved a little closer to the other couple so I could get a better view. The pelon guy was moving his head up and down and around pretty fast, trying to service the fine guy as best he could. For the first time, I noticed a tattoo on the pelon's neck. He had an ELA neighborhood gang name tattooed there.
The fine guy closed his beautiful eyes and whispered through his mouth, Fuck yeah.
The pelon guy was giving him extra special attention. The pelon pulled off the dick for the first time, and licked the side of the dick. The dick was easily 10 or 11 inches long, and I thought, Fuck yeah I want some of that. The dick was beautiful, it pointed straight up, the foreskin was pulled back, it glistened with the blow-job spit, and it looked bothered and throbbing. I was determined to suck that dick even if I had to push the pelon out of the way.
I was beginning to lose interest in the blow job I was getting because I wanted to jump on the fine homeboy, who was a fuckin' dream come true.
The fine homeboy and I started to communicate with each other with our eyes. He knew I wanted him, but it was hard to keep eye contact with him because each time the pelon guy would do something special with his mouth on his dick, the fine guy would close his eyes and moan.
Fuck it, I told myself, I'm gonna take matters into my own hands.
I sat down on the table right next to the fine guy so that our shoulders were touching. I think the pelon guy got threatened by me because he started giving the homeboy an even better blow job, moving his head up and down faster, and holding onto the fine homeboy's waist tightly with his hands as if to make sure I didn't take him away from him.
But I came on a mission, and the homeboy was too fine to let him go.
The fine homeboy turned to me and in a sexy voice, he said, What's up?
He was too fine. I didn't answer him. I grabbed his jaw and pulled him towards me to kiss. His tongue was long and strong in my mouth. His lips wrapped around my lips as his tongue invaded my mouth and massaged the roof of my mouth and my tongue. I also loved the rough, prickly feel of his moustache and goatee on my face. I thought I was gonna faint from the kiss of
this fine man.
I almost didn't realize it, but the stocky guy was blowing my dick again. So there we were, two guys kissing and getting our dicks sucked at the same time. Don't get me wrong, this fourway was fuckin' hot, but there were so many things I wanted to do with the fine guy alone.
I put my hand underneath the fine homeboy's sweatshirt. I felt an amazing hairless tight stomach. My hand reached up and found a pair of firm hairless pecs and tight little nipples that I wanted to suck. As I massaged the homeboy's chest, my dick throbbed even harder and the stocky guy moaned in appreciation as he deep throated my bone.
I pulled up the fine homeboy's sweatshirt and started to suck his right nipple, all the while rubbing my hand up and down his stomach and playing with the light trail of hairs that disappeared into his white boxers. The fine homeboy was wearing blue jeans and a belt. The pelon guy had the fine homeboy's fat dick sticking out through the fly of his pants.
I reached down to unbuckle the fine homeboy's belt. The pelon guy pushed my hand away, probably out of jealousy. The fine guy saw this, and he put my hand back on his belt. The fine guy told the pelon, Let him touch me. So basically it was a matter of time before that super dick was mine and in my mouth. Knowing that the situation was changing, the pelon guy looked up at both of us while he sucked the big dick with his mouth. Don't get me wrong, the pelon guy was fuckin' cute too, and in my mind I told the pelon guy, Don't worry, papi, your azz is fine too, and I'll suck you too.
Once I unbuckled the fine homeboy's belt, I pulled down his pants and his boxers. Once it was exposed, that dick looked even fuckin' bigger, nestled in a big patch of pubic hair, and two balls that were not low hanging, but as big as plums.
Although he tried his best, the pelon guy could not swallow all eleven inches. He was about two inches shy of swallowing the whole thing. When the dick went in as far as it would go in his mouth, his lips would stretch out in an effort to reach the base and wiry pubic hair, but to no avail. Sweat even ran off his nose and forehead, and he swallowed the dick like a true dick pig grunting his lust and satisfaction.
I couldn't take it anymore, so I pushed the stocky guy off my dick, and sat down on the bench between the fine homeboy's legs. Now the pelon guy and I were both sitting between the fine homeboy's legs. I'm not sure what happened to the stocky guy, I think he moved to the side and started jacking off watching the action.
The first thing I did was go for the fine homeboy's nuts. They were truly big nuts, two super, plum-sized nuts with only a little hair. I sucked one nut in my mouth, and the other I caressed with my hand. The pelon guy went wild, sucking up and down on the dick as fast as possible. He knew I was gonna take the dick away from him because the fine homeboy would let me. I
didn't want the pelon guy to feel bad, especially since he found the fine homeboy first, so I started massaging the pelon's dick. Damn, he had a big dick too. About eight or nine inches. I unzipped his pants. His fat uncut dick popped out of the fly of his boxers.
I thought, Damn, that ain't bad at all, so I bent over and took his cholo dick in my mouth. I couldn't get all his dick in my mouth so I unbuckled the pants to get a better view. He had one fat dick, and two huge low-hanging balls, and I thought to myself, Damn, this boy should be getting serviced himself.
I knelt down on the ground, deep throating his gangster cock. I also massaged his great legs and looked up, as he sucked off the fine homeboy who was now standing on the bench. As much as I liked the pelon's big nine inch dick, the fine homeboy's dick was just much better. And I thought to myself, Damn, I want that dick now.
I got up and told the stocky homeboy to suck the pelon's dick. Happy, the stocky homeboy went down on one knee and started servicing the handsome pelon guy while rubbing his big nuts on his chin.
I put my hand on the fat shaft of the fine homeboy's dick and told the pelon, Let me have some now. I pulled the dick out of his mouth and pointed the big head in my direction. The head was pink and big and covered in saliva. The foreskin was pulled all the way back. Before I put it in my
mouth, I thought, Damn this is the biggest dick I've ever sucked.
When my mouth closed around his dick, it felt like fire and I was in love. Immediately I knew the trouble the pelon was having getting all the dick in his mouth, it was just too big. The fine homeboy really liked my mouth. Fuck yeah, he hissed, it's fuckin' hot.
About half his tool was going in and out of my mouth. I stroked his balls and the part of his dick I couldn't get in my mouth.
The pelon homeboy was now enjoying the blow job the stocky guy was giving him. The pelon took off his shirt, exposed his tattooed chest and leaned back on the bench. He had his legs spread open, and the stocky guy bobbed his shaved head up and down servicing the gangster.
The pelon guy said, Suck my dick good, homie, and pulled down on the stocky guy's head for even more aggressive, deeper head. Don't fuck around, suck it all the way, ese, the pelon scolded the stocky guy. The stocky guy complied until his lips were rubbing against the pelon's pubic bush. Yeah, that's how I like it, the pelon crooned his pleasure.
I was getting excited watching them go at it, so what the fine homeboy said next kind of surprised me. He asked me, Do you want to go somewhere more private?
I said okay, and even though he was a big cholo, he was the sweetest thing. He led me by the hand like a romantic lover (inside of me I kind of wanted to laugh because we just finished having a fourway).
He led me behind a wall where the other two guys couldn't see us and he hugged me and he kissed me. I loved sucking on his masculine tongue and loved the way his rough lips enveloped my lips. Even with my eyes closed, the image of his handsome face turned me on. As he crushed my body to his, I felt his huge eleven inch dick against my stomach.
I bent down at the waist and started servicing him again with my mouth, but he pulled me around and pressed his dick against my ass. To make a long story short, the fine homeboy squatted dwn, pressed my ass cheeks apart and ate out my asshole for what seemed like hours. He couldn't get enough of my asshole.
Then he jacked off his dick and pushed my head down so that I was bent over at the waist, exposing my ass to him. It took a long time, but he was finally able to get the head inside my asshole. I put it on everything, I even thought about praying to stop feeling the pain as he pushed the rest of his dick inside me. I almost didn't enjoy it because it was too big, but I
let him do it because I wanted to make him happy. After a while of this fucking, though, I told myself, I want this guy. I want this guy fucking me all the time. I want to keep him. My big-dicked papi came inside of me and kept fucking me, and even though it hurt after he came, I let him do it to show him I liked him.
After we were done, we cuddled and he told me he wanted to see me again. That was years ago, and we are still together. My papi's name is Xavier, and we have been faithful to each other except one time when we had a threeway and I sucked off his straight brother Bandit when he was drunk. Xavier watched as Bandit fucked me. That's another story I'd love to write for your website another time!