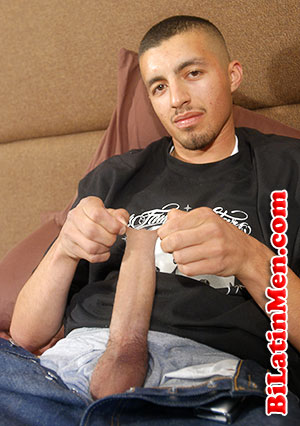 I am writing to your website because a lot of people have not written about what m gonna write about: bisexuality.
I grew up with four masculine and handsome Mexican friends. The eldest friend was called Danny, and he was a real ladys man. He was always real horny and telling us guys about the many women he fucked.
At that time, I was 18 and still a virgin. Danny decided to hook me up with a girl to lose my virginity. The girls name was Debbie. She was a pretty girl with everyday good looks. Although Debbie had a nice body and a pretty face, I was not attracted to her because I knew I was gay even though I had never been with a guy.
The day I was supposed to fuck Debbie, Danny undressed Debbie and then himself. He played with Debbies pussy for a long time until she was wet and he could put easily put his fingers in her pussy.
I'm gonna show you how to fuck her, Danny told me.
Debbie was leaning back on his bed, supporting herself on her elbows. Danny was kneeling between her legs and pulled out a thick long dick. It was more than 8 inches, real straight, dark and uncut. I felt my heart beating in my throat when I saw his fat dick because I knew I wanted his dick. I didnt want Debbie, but Danny gave me a big time boner.
Danny spit in his hand, then spread the shiny slime on the head of his cock. Once his cock was wet and shiny, it looked even more tempting. Danny and Debbie were nude, but I was still wearing boxers and kneeling on the bed beside them.
"See, put her legs on your shoulder first," he told me, "then stick it in."
Danny started to sigh as his penis went inside Debbie. Debbie turned her face to one side with a look of satisfaction on her face. After a while, Danny started fucking her faster and really getting into it. The bed was making noise from the back-and-forth movement.
Suck her pussy while I fuck her, Danny told me and pushed my head down towards her pussy.
I did what Danny told me, and it wasnt too bad because her pussy was tasteless for the most part. As I sucked her pussy, I started getting horny, and I had my eye on Dannys fat dick as it disappeared in and out of her pussy. I decided to lick more of her pussy and do more wild movements with my tongue so that my tongue would come close to Dannys cock as I licked her. A couple of times I felt my tongue against the hard base of Dannys cock, and that really turned me on. I knew more than ever that what I wanted to do was suck cock.
I got closer to the section where Debbies pussy met Danny's dick, and that is where I stayed with my tongue sticking out, sucking pussy and licking dick at the same time. My left ear was pressed against Dannys stomach so that I was getting closer and closer to Dannys dick.
I put my mouth on the base of his dick, so that I was no longer sucking her pussy. I was sucking the fat base of Danny's cock while he fucked pussy. I sucked his base hard so he'd know I was there. With my head, I started to push Danny away from the girl, so that more and more of his dick would be available for me to suck. Now I was sucking about half of Danny's cock. I put my hand on Danny's stomach and pushed him away from Debbie. His nine-inch dick popped out of Debbie's pussy. It was fat, swollen and shiny from the pussy fuck.
I couldn't wait any longer. I put my mouth around Danny's dick and swirled my tongue around the huge head. I swirled my tongue around fast, and Danny sighed.
Fuck, Jaime, that shit feels hot, Danny asked me. Are you a cocksucker?
To answer him, I swallowed his entire dick and wrapped my lips tight around his base.
With his dick buried in my mouth, I looked over at Debbie. I saw she was watching us and playing with her pussy with her fingers. I stuck two fingers in her pussy so she wouldn't feel left out. She moaned and seemed to like it, so I stuck three fingers up there. I did this so I could keep Danny's dick in my mouth.
With his dick in my mouth, I looked up at Danny. I swirled my tongue fast around his big cock head again, and he seemed to like it and moaned. I swirled my tongue around his cock head, and I kept doing this as a technique to keep him inside my mouth.
At one point, I pulled Danny's huge throbbing nine-inch dick out of my mouth and banged it against my lips. To keep Danny happy, I told Danny to eat Debbie's pussy, while Debbie sucks my dick and I continue to suck Danny.
That's cool, Danny said.
Danny started to eat Debbie out. Debbie engulfed my cock in a sweet tingling sensation which was my first blow job. Danny dick was hard as stone in my mouth and hands. Especially when he started to eat out Debbie, his dick seemed to grow about an inch more and tapped the back of my throat even more. His dick also got fatter and I thought, Is there no end to this guy's dick?
After a while, Danny got even hornier, pushing my head down on his huge dick.
Damn, he told me, you give good fucking head.
Since I started, I had learned how to deep throat him. I rested my lips on his hairy bush, smelling a strong man scent, then I pulled my mouth upward, adding a lot of pressure to his thick base, sucking up all the shaft, until I got to the big head and pulled on his foreskin with my lips. I started to jack off his huge crank in my mouth.
Then I asked Debbie, How does it feel to get fucked? My forehead was sweating, the taste of Danny's sweet precum was on my tongue, and my heart was beating with excitement. I wanted Danny up my ass.
Uhhh, Debbie said, that sounds kinky.
Fuck him for for me, Debbie told Danny, I wanna see you fuck a guy. I wanna see your dick in his ass.
Danny told me, Get your faggot ass over here.
She gave Danny a wet, sloppy blow job, she said so that he could use her saliva as lubricant to fuck me.
Danny laid on his back with his big monster dick pointing straight up towards the ceiling. I straddled Danny's body and then I started my descent towards the big cock head. His dick felt hot and wet against my asshole. My dry virgin hole felt hot against moist his cock head. I loved the feel of Danny's strong, masculine hands on my waist as he guided me down towards his thick dick. He got some saliva and put it on my asshole. In the meantime, Debbie massaged Danny's legs, then started to work on his big balls, getting him ready to penetrate me.
When his dick finally started to enter my asshole, I felt the world stop. It felt huge, painful and hot. The pain was sharp and dull at the same time as his mammoth dick separated the walls of my virgin asshole. I felt like I had to take a shit. More and more of his dick disappeared into my asshole. I felt my asshole slide like a tight kiss down around his cock.
Oh, yeah, Danny moaned, sit on this dick, faggot.
My asshole clasped down around his fat base. Finally I had taken all his cock, and my little ass was sitting on his rough crotch hair.
How does it feel? Debbie asked, massaging Danny's balls.
It feels tighter than a pussy and hotter, Danny moaned. I knew he was loving it.
Do you want me to get off? I teased him.
Nah, nah, stay on there, Danny said and put his hands back on my waist to make sure I didn't get off. He bit his lower lip and then he started to make fucking motions with his hips. It hurt like hell, but I didn't ask him to stop. For a while I felt like a hard stick was moving in and out of my asshole. But then it started to feel good. At that point, Danny put me in a doggy style position. Debbie was standing over me with her pussy in Danny's face. Danny slapped my ass hard while he ate out Debbie's pussy.
You like fucking him? Debbie asked Danny.
Yeah, he's tight, Danny said in a panting voice and then went back to eating pussy.
Tell him you gonna fuck him whenever you want, Debbie told Danny.
You're gonna be my bitch whenever I want, Danny told me and fucked me even harder.
This excited me and I pushed my ass cheeks into Danny's cock, and Danny ate Debbie's pussy more wildly.
I'm gonna cum, Danny said.
I want him to cum in my mouth, I told Debbie.
Cum in his mouth, Debbie ordered Danny. Debbie was in charge of the situation. It appeared as if Danny had let Debbie get in charge of the situation in order to disguise our male lust for each other. In other words for Danny it was okay to fuck around with another guy as long as there was a girl involved.
I jacked off Danny's dick which now looked to be 10 inches long, and then I covered the head with my mouth. A long squirt of thick hot, man leche went into my mouth, and Danny cursed and moaned as I drink his man leche. He gave me three more big squirts as he buried his dick in my mouth. His balls moved up and down as he unloaded himself. His milk was thick, rich, and hot. It tasted delicious. Some of it spilled on his hairy balls. I licked his slimy dick and hairy balls clean.
That was good, Danny said in a lazy, satisfied voice.
Then Debbie squatted over Danny's face. He ate her out and played with her ass until she came, moaning loudly. Debbie sucked me till I came, then we all rested on the bed for a while. Then I got dressed and left because I had to go home satisfied.
Soon, Debbie moved to Washington DC. Danny and I never messed around again until one day he was drunk and high he asked me if I had enjoyed sucking his dick. To answer him, I got on my knees and unzipped him right there. I sucked his huge soft dick to hardness while he stood in my room, smelling of alcohol.
I still suck Danny to this day, but only when he is drunk. At night he taps on my window, and he always smell like beer when he wants me to suck off his huge 10-inch dick. That's the beauty about his dick. It is usually nine inches when it's hard, but if it is sucked right it grows to 10 inches. He fucks me regularly too. His favorite thing is to cum in my ass in the doggy style position.
Danny is straight, but now there doesn't need to be a girl around for him to let me suck him off.
Thanks to Danny I met a homeboy Pablo, another gang member who likes to get serviced while he's drunk. Danny doesn't know I suck off his homeboy Pablo too. Pablo has a fat, 8 inch uncut dick. I sucked off Pablo the first time behind the hand-ball courts at a local park, but that's another story that I'll have to write for your web site another time.