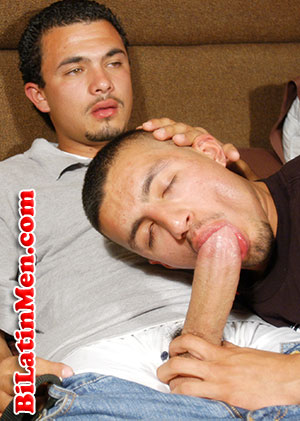 Three weeks ago, my friend Leon told me about some hot gangsters in Tijuana who got deported from Los Angeles. In particular he told me about one gangster named Julio whom he also showed to me via web cam. My friend lives in TJ, and the gangster Julio was at his house so I saw him through web cam. The image of Julio on the web cam was very blurry, and I was not impressed by him.
Well, eventually, I went down to TJ, and one day my friend introduced me to Julio, a straight gangster recently deported from Los Angeles, and I was like, "God damn, this papi is fine."
We chatted a little bit, and then my friend Leon said he wanted to go back home. I made an excuse and said I was going to stay in town just so I can continue talking to Julio. Before my friend left, he whispered in my ear, "You can trust him, but be careful, don't trust him too much." In TJ you have to be careful with hustlers because a lot of them, especially the straight gangster ones, have a reputation for robbing people.
With this in mind, I told Julio, "Wait for me here. I have to do something. I'll be back in 15 minutes, but for sure wait for me here. Don't go nowhere."
Julio was so hot, so cute and masculine. He said, Don't worry, I won't go nowhere.
So then I ran a few blocks away and checked into a hotel. While in the hotel, I took my money out of my pockets (I had a couple hundreds), and I hid my money inside my motel room. Then I kept only about $60 in my pocket, this is the money I intended to spend on feeding Julio and then paying him for to suck his dick, he he he, if he agreed to it.
So now that my pockets were lighter, I went back to Julio, and I found him right where I left him. I asked him, Are you hungry? He said yeah, so I treated him to eat. We ate, and I was amazed at how masculine he was. I was falling in love with this total good looking straight homeboy. My friend had told me Julio had a fine body, so I was dying to see it without clothes.
At the same time, I was horny as hell, so I wanted to get Julio out of there, and take him to a hotel and suck his dick.
When we were finally done, my heart was beating a mile a minute because I was very horny and excited, and I had made up my mind to ask Julio straight out if I could suck his dick. I thought to myself, "Fuck wasting time eating, etc. I want to get some dick."
So while we were only a few feet away from the restraint, I asked Julio, "Do you like to get your dick sucked?"
He smiled real cute, real shy, like a little boy, "Yeah." Then he kind of stuttered and in a real shy and masculine manner, "Well, I'm straight, but I let guys suck him dick. Not because I like it, I'm not like that, but because I need money."
So then I told him, "Well, let's go to a hotel."
Not soon enough, we got to a hotel room. We went to a different hotel than to the one I had checked into earlier. I didn't want him to know where I was staying in case he tried to rob me. Then it surprised me a little, the fine Julio started to take off his shirt. In my mind I thought, This is not the first time, he's done this, this boy has done this before."
Man, he took his shirt off, and he had a beautiful muscular smooth body, real light skinned, and so smooth. Oh man, I wanted to cum right there. But I didn't like that he was undressing himself, I wanted to be in control.
So I told him, Lay down, I want to give you a massage.
So he layed down, and I rubbed his back. I was so fucking horny, it is so hard to get guys that I like because I'm so picky and like only super masculine men. I massaged his back and arms for a little while, but then I couldn't take it anymore, I had to see his dick.
I told him to turn around, and then I started rubbing his dick through his pants. He had a real nice big dick, and it was getting harder and harder while I rubbed him, and I was beginning to think that I had met the perfect guy.
Oh, man, when I finally pulled out his dick, I was in total heaven. It was big by my standards, about 7 inches, but so perfect and nice and smooth and hard and uncut. All these sensations were going through my mind at the same time. He was the perfect guy.
I sucked him off, and I liked the fact that he kept his pubics natural, he didn't shave. As I sucked his dick, I would look up to him and ask him, "Do you like that?"
He was so shy and nervous. As if he was afraid that other people might hear us, he put his finger to his lips and said, "Shhhh…"
He had such a cute beautiful smile, so shy and masculine, and he nodded his head, Yes I like it, and then again he smiled and put his fingers to his lips to indicate silence so the neighbors did not hear us. I thought that was so cute of him.
Then I went back to devour that big beautiful gangster dick. In my mind, I thought, Damn, thank god this guy got deported and is now in need of financial aid, otherwise I might never get him in the U.S.
For a long time, I enjoyed sucking off that big pito, and looking up once in a while at my beautiful man, wondering if I was going to fall in love with him. He is exactly the type of man I like.
Soon he came in my mouth, but the little bastard didn't tell me. He came a lot and I almost choked. His sperm tasted sour, I didn't like it, but of course it was the man of my dreams so I didn't give a fuck.
After that we went to a straight strip bar, and I bought him a few beers. I'm sorry to report I kind of fell in love with this guy, and I had him a few times since then, and we did more sexual things those times, but I lost contact with him now.